Find an urgent care clinic that's prompt, friendly and clean in Arizona. Put your zip-code into this convenient office finder and get the hours, addresses and phone numbers of a FastMed near you.
There are some things that may be tough to come by if you live in Arizona. One of those things is very cold temperatures. While there are colder parts of the state and temperatures can dip below freezing overnight in the wintertime, generally cold weather is not something Arizonans deal with much. Without the hassle of cold weather, plenty of outdoor activities are prevalent, including camping, biking, attending outdoor festivals, water sports, golf, and more. One more thing you can find a lot of in this state are options for a quality Arizona medical clinic at FastMed Urgent Care.
Urgent Care clinics are an affordable alternative to visiting the ER for non-life-threatening injuries and illnesses. They can provide medical services to people of all ages, and are committed to getting you the care you need.
What to Look for in an Arizona Medical Clinic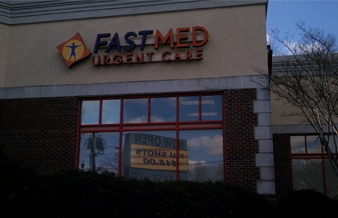 When choosing an Arizona medical clinic, there are some basic services that should be provided.
When you choose FastMed, here's what you can expect:
Prompt, personal service for non-life-threatening medical conditions and injuries
Faster test results from on-site labs
Acceptance of most forms of insurance
Access to a Savings Plan if you can't afford medical tests or services
Digital medical records to ensure your most current information
FastMed Urgent Care clinics are open every day of the year, and we feature extended hours on weekdays. Whether you need a simple physical for school or work, a prescription to help your sore throat, or an X-ray for a fractured wrist, the trained, experienced medical professionals at all our Arizona medical clinics have you covered.
Find the nearest FastMed walk-in clinic and come see us today.