Understanding Blood Sugar and Diabetes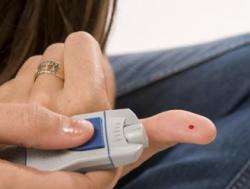 Understanding the relationship between blood sugar and diabetes can mean the difference between an untreated, life-threatening illness and a manageable way of living with diabetes.  FastMed Urgent Care offices will help you manage your condition and answer any questions you have about blood sugar and diabetes.
Diabetes affects an estimated 29 million people in the U.S., and a majority of them suffer from Type 2 diabetes. Type 2 is normally the result of aging, family history, previous history of gestational diabetes, physical inactivity, and ethnicity. Roughly 80% of people with Type 2 diabetes are overweight or obese.
Blood Sugar and Diabetes: Healthy Living
When living with diabetes, it is important to monitor your blood sugar levels. You can do this is at home with a monitor and test strips. The monitor pricks your finger to get blood on the test strip and register your blood sugar. Talk to your FastMed medical practitioner about when you should seek medical attention or when you need emergency care.
Lifestyle choices can make a huge difference in a diabetic's quality of life. Even losing 10 pounds can create positive changes in your blood sugar levels. Try to become more active: walk, swim, or exercise in other ways. Simple actions like taking the stairs or parking at the rear of the lot at the supermarket will help.
 Be particularly mindful of your alcohol consumption, for it turns into sugar in your blood. Talk to your medical team about alcohol to avoid the potential dangers. Diabetics should also carry a source of sugar, like hard candy or a box of raisins.  
It's suggested that you get a Hemoglobin Test around three to four times per year. You can discuss that at FastMed Urgent Care to help monitor your condition.  Make sure you document the blood sugar testing you do at home: keep a small notebook or a chart on the refrigerator and bring it with you when you come in for your test.
Related Articles:  Sugar Diabetes Test | Healthy Recipes | Symptoms of Urinary Tract Infection |  Flu Symptoms in Adults | What is Glucose Level in Blood Test | FastMed Locations By State