Blood Sugar for Diabetes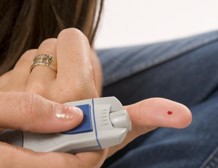 Blood sugar is an indicator of insulin production. Insulin is produced in the pancreas; however, there sometimes isn't enough or the body doesn't efficiently use it. When there is too little or too much sugar in the blood, the body begins to lose its capacity to function.  Blood sugar for diabetes is 200 mg/dl, meaning the sugar levels are too high. FastMed Urgent Care can test your blood sugar for diabetes at any of our NC or AZ locations.  We're open every day of the year if you need help managing blood sugar for diabetes or other chronic conditions.
Learn about Blood Sugar for Diabetes
Type 2 Diabetes:  
The most common form of diabetes is type 2 – 90% to 95% of cases. The body can't produce enough insulin or doesn't effectively use insulin. Symptoms from type 2 diabetes can be alleviated by eating a more balanced diet and becoming more active.  Ask the medical professionals at your FastMed Urgent Care office about whether or not you need medication to get your blood sugar under control.
You can check your blood sugar at home, but it is recommended that you receive a blood test called hemoglobin (Hb) A1C a few time per year. Get a schedule for your testing set up at FastMed. We accept most major insurance plans and can help source supplies to monitor your glucose levels at home.
Hyperglycemia:
Hyperglycemia is also known as prediabetes.  It is a condition where the glucose levels in a blood test are far higher than normal but not quite high enough to be classified as diabetes. People with hyperglycemia are at risk of developing type 2 diabetes and cardiovascular disease.
Gestational Diabetes: 
Roughly 3% to 10% of pregnant women experience gestational diabetes. Because gestational diabetes occurs later in the pregnancy, and it does not normally cause birth defects. Getational diabetes normally goes away after the birth, and the infant does not have the disease. However, gestational diabetes is a risk indicator for onset of type 2 diabetes within 5-10 years.
Hypoglycemia:
Hypoglycemia is characterized by abnormally low blood glucose (blood sugar) levels, usually fewer than 70 mg/dl. Hypoglycemia is also sometimes called insulin reaction syndrome. Symptoms of hypoglycemia come on quickly and will usually be eliminated by consuming food, such as a handful of raisins. We still recommend that you consult with a doctor regardless of the severity of symptoms, so come on over to FastMed Urgent Care.
Related Articles:  Sugar Diabetes Test | Walk in Health Clinic |  Flu Symptoms in Adults | What is Glucose Level in Blood Test | FastMed Locations by State | Flu Symptoms in Adults