Dear Dr. Kyle:
My daughter has been coughing and wheezing at night, as well as told me that she feels tightness in her chest. Her symptoms are mild, but I am worried they will become worse, or even life-threatening. I want to get her treated, but I am not sure where to go. I heard that FastMed Urgent Care offers treatment for a variety of medical conditions, but I am worried it might not be as good as making an appointment with her doctor or going to the emergency room. What should I do?
Sincerely,
A Concerned Parent
Dr. Kyle's Response about Asthma and Chest Tightness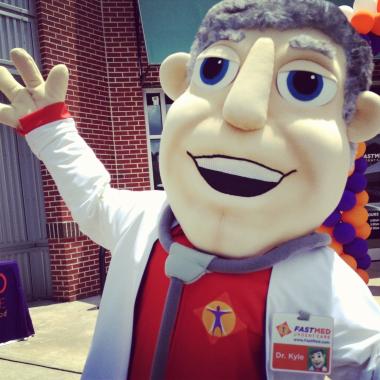 Dear Concerned Parent,
I am so glad you are writing to me! It sounds like your daughter could have some of the early symptoms of asthma and may require prompt medical treatment. Asthma is one of the most common chronic childhood disorders, affecting nearly 9 million children. It is often caused by things like allergens, changes in the weather, or infections, such as the flu or a cold. Asthma typically causes recurring periods of wheezing, chest tightness, shortness of breath, and coughing.
The most troubling part about asthma is that the symptoms can often become worse at a moment's notice. When these symptoms become worse than usual, it is called an asthma attack, and asthma attacks typically require emergency care.
Don't wait until your daughter's symptoms get worse to bring her to FastMed. I can assure you that for mild asthma symptoms, FastMed is one of the best places you can go. Our staff is trained in adult and pediatric urgent care, and they are committed to always be caring, respecting, accepting, valuing, encouraging, and understanding. At FastMed, we treat our patients like family, and we will give your daughter the personal care she needs to have her feeling better as quickly as possible.
Sincerely,
Dr. Kyle