Clinics: Convenient Care vs. Urgent Care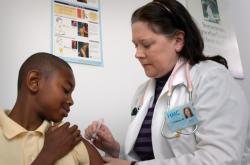 Medical clinics are changing the way we access healthcare. In the past, you had two choices: a doctor's office or the emergency room. Neither one worked well for non-life-threatening illness or injury. FastMed Urgent Care offers a solutions: our locations began appearing in neighborhoods to offer quality care for common health concerns, treating ear infections, bronchitis, sprains; stitching up cuts and giving flu shots and vaccinations.  FastMed Urgent Care medical clinics opened early and stayed late every day of the year – just type in your zip code to find your location.
Convenient care clinics also began to bring healthcare into the community.  A convenient care clinic is normally located in a supermarket or drug store. Sometimes these private clinics have designated space to provide preventative health services. Other times, they are created for a specific purpose, like a flu shot clinic. These clinics are not normally equipped with the diagnostic tools or equipment that you would find at an urgent care clinic like FastMed.
FastMed Urgent Care clinics are more like a doctor's office than a convenience store clinic. Our walk-in clinics deliver immediate care. Come in when you're sick or injured to get immediate treatment from a healthcare professional. At FastMed, we can take x-rays at our clinics, and, unlike the doctor's office, we have labs to do testing on site. That means we don't have to send samples to an outside lab, wasting time and money.  
Why FastMed Urgent Care Clinics?
At FastMed Urgent Care walk-in clinics, our medical teams are waiting to offer you proper tests, diagnoses, and treatments for common illnesses like strep throat, allergies, and ear infections. We also treat minor injuries, such as cuts, lacerations, and sprains.  We digitally X-ray limbs in case of a break and can get you in a cast right away. 
Open 365 – All FastMed Urgent Care clinics are open every day of the year, including holidays. Come in before or after work: we open early and stay late.  No appointment is needed, but you can fill out our registration forms before you come.
Affordable – The FastMed discount program helps people who pay out-of-pocket for the costs of their healthcare. All FastMed Urgent Care clinics accept most major types of insurance.
Fast In and Out – It's our mission to make the entire process of checking in, seeing our medical professionals, and receiving the recommended treatment within an hour. We do lab testing, take X-rays, and conduct EKGs on site.
Additional Articles:  
Low Cost Urgent Care |  Walk in Clinic |  Flu Shot Clinics | Flu Shot Locations | Intradermal Flu Vaccine | Influenza A Symptoms