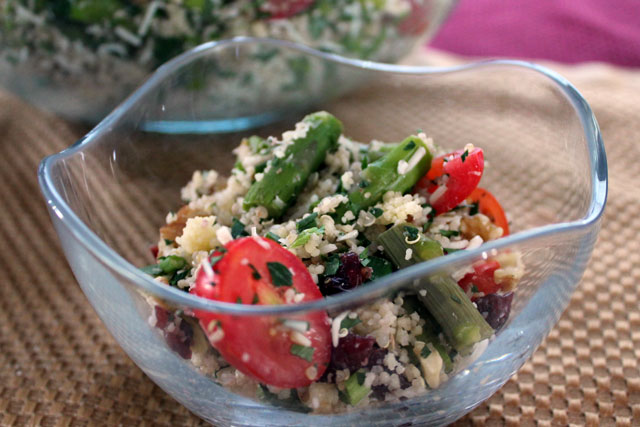 Couscous – it truly is "the food so nice, they named it twice!" It's versatile, and its addition to this salad takes the side dish from just another plate of vegetables to an intriguing and textured part of your meal. It's a lower-calorie alternative to quinoa, and each cooked cup has 2 grams of dietary fiber and 6 grams of lean vegetarian protein. If you're scaling this recipe, keep in mind that one cup of uncooked couscous makes about two cups of cooked couscous. Top this salad with some homemade balsamic vinaigrette and your dinner guests are sure to be impressed!
What You Need
1 cup couscous
1 lb. asparagus, trimmed and chopped
1 pint grape tomatoes, halved
¾ cup walnuts, chopped
½ cup dried cranberries
½ cup fresh parsley, chopped
½ cup fresh chives, chopped
½ cup Parmesan cheese
Balsamic vinaigrette for serving (optional)
What to Do
1. Cook the couscous according to the instructions. Every box or bag is a little different, but most couscous involves boiling water. As you're cooking your couscous, put a large pot of lightly salted water on the stove and bring to a boil.
2. Blanch the asparagus. To do this, put the asparagus pieces into the boiling water and allow them to boil for about two minutes (add more time for softer veggies, or less if you like your vegetables firm). Drain and immediately immerse in ice water until they cool off.
3. Mix all of your ingredients – couscous, asparagus, walnuts, dried cranberries, parsley, chives, tomatoes, and Parmesan cheese – in a large bowl. Serve chilled or at room temperature with balsamic vinaigrette, and enjoy!