Mommy, my throat hurts.
For parents, those 4 simple words often make you think of one thing: strep throat.
Strep throat is a bacterial infection that causes a red, painful throat, fever, and yellow or white spots on the tonsils. While it is most common in school-aged children, it is possible for adults to get it as well.
Did you know that it is possible for someone to have the strep bacteria living in their throats, but experience no symptoms? These people are known as strep throat carriers, and will often test positive for strep throat whether they exhibit signs of the infection or not.
Now, I know what you are thinking: Ok, Ok, I just want to know the cure for strep throat so I can get on with my life!  Let's first determine if you even have strep throat.
Not All Sore Throats Are Strep Throat.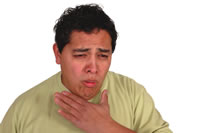 When you or your child have a sore throat, answering these 2 simple questions can help determine if it is strep:
Do you have a cough?
Have you had a fever in the past 24 hours?
Coughing is not usually a symptom associated with strep throat, but almost all strep throat cases involve a fever. If you have a sore throat is accompanied by coughing, chances are you have a different infection like the common cold. If you have a fever and sore throat, see a medical professional immediately for a rapid strep test.
There is no cure for strep throat: only treatment.
If your strep test is positive, your healthcare provider will most likely prescribe antibiotics to help fight the infection. It is important to note that antibiotics do not cure strep throat, and it is possible for the infection to come back after using them.
FastMed Urgent Care offers rapid strep tests 7 days a week with no appointment and will have you in and out of our clinic within 1 hour. All of our clinics are clean, modern, and are equipped with on-site labs, x-rays, and EKGs. Whether you think you are suffering from strep throat, need your annual flu shot, or require a physical, FastMed is there for you every day of the year. Check out our ZipPass to get started!