Dermatitis: Skin Irritations
Have you ever spent a nice sunny day lying in the grass only to get up and notice little red bumps on your skin? Have you ever used new shower soap and immediately noticed you had a skin rash? If so, you've experienced dermatitis. 
Dermatitis is a term used to describe a skin irritation that can be caused by a variety of factors. The type of dermatitis you get from new soap or allergens like grass is called contact dermatitis, but there are other types of dermatitis as well, such as nummular dermatitis, atopic dermatitis, and seborrheic dermatitis.
Different Types, Different Symptoms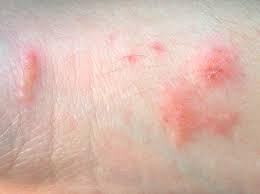 The symptoms of dermatitis vary depending on the type. For example:

Contact dermatitis usually causes a rash that may burn, sting, or itch, and may even develop blisters. 
Nummular dermatitis causes coin-shaped red plaques that commonly appear on the hands, arms, legs, and torso. This type of dermatitis is more common in women and usually occurs in adults between the ages of 55 and 65. 
Atopic dermatitis or eczema is a skin reaction in the skin that leads to swelling and redness. Atopic dermatitis typically causes symptoms like itchy, dry skin, blisters, and redness or inflammation.
Seborrheic dermatitis typically affects the face, upper chest, and back, and causes scaly patches, red, skin and dandruff. In infants, it is called cradle cap.
Dermatitis treatments also vary depending on the cause, and can range from over-the-counter corticosteroid creams to prescription medications to phototherapy.
If you are experiencing the symptoms of dermatitis and want to get it checked out as soon as possible, stop by your local FastMed. We are open 365 days a year with extended hours, making it easy for you to be seen by a medical professional at a time that best fits your schedule.
Our staff is trained in adult and pediatric urgent care. We will be able to assess your symptoms and provide you with the appropriate treatment options. If one of our medical professionals decides you need to see a skin specialist, we can book the appointment and fax over your medical records for you. At FastMed, getting the medical treatment you need, when you need it, is quick and easy!