More and more companies are taking an interest in their employee's health and view employee wellness programs as a positive investment. Often, employees who participate in wellness programs receive a credit towards their insurance premium or other rewards. Have questions about employee wellness programs? FastMed Urgent Care has answers!
Employee Wellness: What is it?
Employee wellness programs were designed to promote good health and encourage employees to make healthy choices. This, in turn, can save companies money on insurance and workers comp. Johnson & Johnson estimates that employee wellness programs have saved the company $250 million on health care costs over the past 10 years,  but what exactly do employee wellness programs entail? While each employee wellness program is different, many employee wellness programs include:
Biometric screenings and physicals
Immunizations
Health education
Behavioral coaching
On-site gyms or free gym memberships
Personal health assessments (PHA)
Participatory wellness programs VS. health-contingent wellness programs:
With participatory employee wellness programs, employees are rewarded simply for enrolling in the wellness program. With health-contingent wellness programs, employees must meet certain health goals to get rewarded.  
Are the results of my biometric screening and/or physical confidential?
Yes. All results associated with your employee wellness program are confidential and will not be shared with your employer.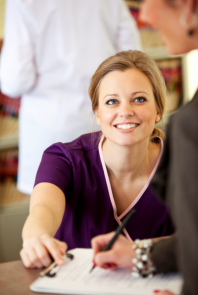 Where can I get a physical or PHA as part of my employee wellness program?
FastMed Urgent Care offers physicals and health evaluations 7 days a week. On top of that, FastMed also offers:
Flu shots and vaccinations
Acute and chronic illness management
Gynecological exams
DOT physicals
Treatment for sprains, fractures and dislocations
Treatment for asthma
Treatment for concussions
And more!
FastMed offers occupational health services every day of the year with no appointment and is open late during the week. Click here to find a FastMed near you.