Need An Employment Physical?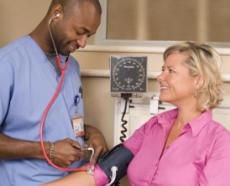 You can get an employment physical or sports physical at any FastMed Urgent Care walk in clinic across Arizona and North Carolina - just type in your zip code to find the location closest to you. FastMed Urgent care walk in clinics are a great way to get accessible healthcare services in your own neighborhood.  In addition to an employment physical, we also do sports physicals, DOT physicals and annual physicals or checkups.
According to the Federal Motor Carrier Safety Administration: 
"Beginning May 21, 2014, drivers will be required to obtain their FMCSA medical examination from a certified medical examiner that is listed on the National Registry. "  All FastMed Urgent Care clinics are certified in the FMCSA registry, so come on in and get your certification updated.
FastMed Urgent Care walk in clinics are open every day of the year – including holidays – so you never have to worry about a medical professional being available. You don't even have to schedule an appointment for your employment physical, just come on by – walk-ins are welcome.  Our operating hours are extend – so you can come in for your employment physical before or after work or school. You can also complete your registration forms before you come in.
Your Employment Physical at FastMed Occupational Health
In certain industries, an employment physical has become a part of the the hiring and retention process. The physical exam typically consists of a review of the prospective employee's medical history, physical test, vision test, hearing test, and a test for vital signs. Some employers may also require other tests, such as a respiratory evaluation, for example, or lifting capacity. If the HR department decides a physical exam is necessary, it needs to be conducted by a physician, a registered nurse, physician assistants, or other medical professionals who are duly licensed by the state. NC and AZ business owners looking for a partner in occupational health need look no further than FastMed Urgent Care. 
More Articles:  Occupational Health Forms | Pre-Employment Physical | DOT Physical | Sports Physical | Employee Drug Testing | Lower Back Pain