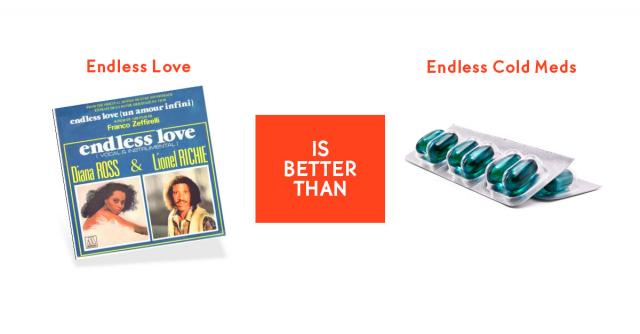 When Diana Ross and Lionel Richie came together to record "Endless Love" in 1981, it became one of the biggest hits of the eighties and has since been covered multiple times. Clocking in at 4 minutes and 26 seconds, it's a perfect guide for a healthy morning routine. Sure, the Centers for Disease Control and Prevention champion 5-minute healthy habits, but we're shaving 34 seconds off that — because we're FastMed — and we're giving you a silky-smooth soundtrack to play in the background. How can you not get behind a self-care routine to one of the greatest love songs of all time?
Washing your hands
Experts recommend you work up a wet lather and scrub your hands for 20 seconds. Wise — less romantic but wise — institutions like the CDC recommend you sing "Happy Birthday" to ensure you scrub long enough to rid your hands of dangerous germs. We want you to focus on the first few lines of "Endless Love" instead. If you don't know them, maybe you're so young you have an app to wash your hands for you, maybe you think Lionel Ritchie only sang "All Night Long," or maybe you just need a refresher — and that's okay. To get us started, lift your voices with me: My love, there's only you in my life, the only thing that's bright.
Check those tonsils
We're spending quite a bit of time this season talking about the difference between viral and bacterial infections. This is important because we want to make sure people are only taking antibiotics when they absolutely have to. So, when you have a sore throat, think about when the "Endless Love" chorus kicks in. It's a big soulful declaration that sounds like: And I-I-I-I… Hold the I's…and look deep into the back of your throat. If you see white spots, that sore throat should be tested for strep.
Look deep into your own eyes
And your eyes, your eyes, your eyes…hey tell me how much you care. They also tell us about seasonal allergies. Eye allergies affect 1 in 5 Americans and can often be treated with at-home remedies. But if redness, itching, swelling or irritation persist, you may want to talk to a healthcare professional to get everything checked out. We wouldn't want a treatable infection clouding the windows into your soul, would we?
Give yourself a hug
While our tune suggests holding the apple of one's eye forever, forever is a really long time. We recommend you vary movements, stay active and keep moving to maintain your health. Also, a quick hug might help your health as much as a long one, even if it's a hug you give yourself. Researchers found the brain was unable to feel some minor aches and pains when study participants gave themselves a hug. See, when the brain sees arms crossed and feels an influx of touch in an achy area, it loses track of the initial pain. So give yourself a hug, whether or not you've found your endless love.
One last thing
The song is almost over. What should you do before you start your day? Well, as Ross and Ritchie sing, No one can deny this love I have inside, and I'll give it all to you, my love…and this is really our whole point. Looking in the mirror, singing "Endless Love," focusing on your health, is about you. While others may love you and your family and friends may sometimes hold you accountable for your health, it's up to you to look in the mirror and treat yourself with all the love you have inside. Don't let a small problem grow into a bigger issue because you didn't care enough to get it checked out.
FastMed is here for you
This is our songful way of telling you that every morning or night, whenever you spend the most time in the bathroom, you need to pay attention to the details. Put on your favorite song and look at your eyes, nose, mouth and ears. Go over your body and see if you find anything new or worrisome. Then, anytime you have a question or want to get something checked out, FastMed is your answer. Your local FastMed can get you in and out and back in the dance of life at a fraction of what the emergency room visit costs. Trust FastMed because we're on your side… endlessly.