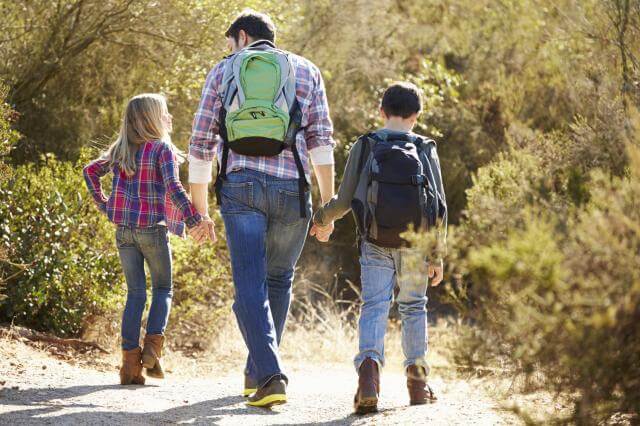 Wilderness is not a luxury, but a necessity of the human spirit and as vital to our lives as water and good bread.
            ~Edward Abbey, Desert Solitaire
As the great writer and naturalist Edward Abbey has expressed so beautifully, the wilderness is good for you. Immersing yourself in nature, in mountain vistas and wide skies, clears cobwebs from the soul and makes the spirit shine.
And the benefits don't stop with your mind. When you go hiking, climbing, stargazing and wandering in nature, your body will thank you.  Outdoor adventuring lowers blood pressure, improves resistance to stress, and even helps you lose weight!
Tolleson citizens have just that kind of adventure waiting for them right next door in Estrella Mountain Regional Park. Since 1954, almost 20,000 acres of mountains and desert have been ready to greet Tolleson citizens with everything from day climbs to week-long camping trips. Estrella is easily accessible from MC 85, right near the junction of the Agua Fria and Gila rivers. Have you thought recently about what a trip to the great outdoors could do for you and your family? Estrella offers so many opportunities for family fun, and FastMed of Tolleson encourages you to take advantage of them! Here's what you have to look forward to:
Go hiking. 33 miles of trails offer hikers, joggers, mountain bikers, and bird-watchers a home away from home.
Have a picnic. Estrella offers the only grass picnic area in the Maricopa County Park system. 65 acres of beautiful grass lawn are the perfect place to spread out your blanket and open your basket. Plus, bedtime will be a breeze if you let the kids run wild and work off that extra energy!
Take a class. When people think of state and regional parks, they think of hitting the trails for some exercise. But did you know that you can also exercise your mind in Estrella? Classes on everything from dinosaur history to photography are available through Estrella's educational programs. Just check out the events page for details.
Stargaze. Think about it: we are all made of the stuff of stars. Take some time to wonder at the mystery of it all by stargazing under Estrella's wide desert skies. The park will provide the telescopes — you just bring your curiosity!
Go fishing. Do you fish for the fun of it? The Gila River runs right through Estrella. Our catch-and-release program attracts avid fishers who just want a quiet place to cast a line for a few hours. Or a few days. Take your pick.
Go camping. Just get away from it all. Whether you prefer the comfort of an RV or the intimacy of your tent, Estrella's campgrounds can accommodate you.
Walk your dog. If your family includes a cute canine, Estrella is the place to be — just grab a leash and hit the trails. For some extra socializing, join other dog-lovers and their furry friends for an unforgettable romp through the desert.
Tolleson, FastMed encourages you to stay happy and healthy by exploring the rich natural world around you. And remember: if you have a bit too much fun and twist an ankle or strain a hamstring, FastMed is here to help. Just head on in — no appointment necessary. We'll take care of you quickly and get you back out into the great wide open.