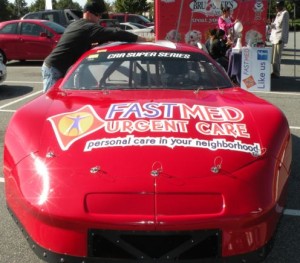 FastMed opened today with a great crowd that came out to get lunch, enjoy activities and take photos with our NASCAR and of course tour our newest urgent care right in Charlotte!
Located in Cochran Commons, hundreds of people stopped by FastMed Urgent Care to enjoy pizza, hot dogs, ice cream and drinks. If you drove by you would not have missed our FastMed street team students who were excited to flag drivers down and show them the FastMed sponsored NASCAR race car! Our driver Jeff was onsite giving autographs.
"I was so surprised how large and clean the new clinic was, the medical staff were very inviting, and they really look really committed to the community with their programs" said one of our many guests that enjoyed a tour, blood pressure check and ice cream.
FastMed street students gave out t-shirts, first aid kits and hand sanitizers to guests as well. If you missed it you missed a beautiful day in the sun with all your neighbours and your new FastMed friends! But stop by if you are in the area and say hello to the staff!
Enjoy our event photos HERE.