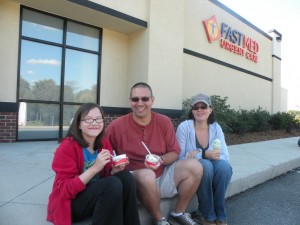 FastMed opened with a great reception in the community this past weekend just off i85 in Concord off of George W Liles Parkway. Click on the photo for all our photos!
Hundreds showed and we can't thank the community enough for spreading the word and coming out to visit us, our clinic, our street team and others in your community including the Concord Police and Fire Departments. We had two fire trucks! We had fun with Jeff our FastMed sponsored race car driver and the Super Late Model available for photos!
Provider Gary Uremovich was very excited to see everyone. "It is wonderful to be part of an organization that feels so strongly about community involvement along with practicing medicine. That is where I come from, and why I am proud to work here seeing patients and in the capacity of Practice Manager. I really look forward to making a difference here!" said Gary. FastMed's Ribbon cutting will be Monday the 24 starting at 12. Anyone free for lunch is invited for a brunch and free walk throughs and blood pressure checks.