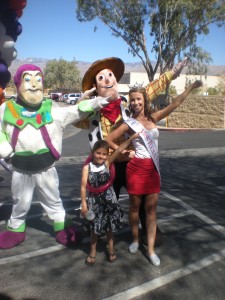 FastMed opened its fourth and final clinic for the year in Tucson this past weekend on E. Tanque Verde Road. 
More than 280 people were in attendance to celebrate the grand opening and check out what FastMed has to offer.  In addition, the state-of-the-art clinic saw 13 patients on opening day.  A large part of the success of the turn-out was due to FastMed's fabulous street team who were on every corner flipping signs and waving people in to come and join in on the festivities.
You can Click Here to check out pictures of the event, and while you're there make sure to like our Facebook Fan Page! Also, if you would like up to the minute updates on FastMed, make sure to follow us on Twitter!In celebration of the opening, FastMed offered $10 flu shots, free blood pressure checks and give-a-ways such as hand sanitizers, first-aid kits and FastMed t-shirts.  Some of the entertainment of the day included Woody & Buzz from Disney's 'Toy Story'; face painting, balloon animals, Isabella's Ice Cream, Tucson Fire Department and Miss Tucson Valley Piper Stoekel. Also in attendance was My 92.9 radion station broadcasting live and gave out posters, CDs and sunglasses.
Come check out FastMed's next grand opening on March 10, 2012 at 3730 W. Happy Valley Road Glendale, AZ 85310.  The event will go from 11 a.m. to 2 p.m. and will offer $10 flu shots, free blood pressure checks, tours of our state-of-the-art clinic, give-a-ways and more!  We look forward to seeing you there!
-Written by Ahna Erickson