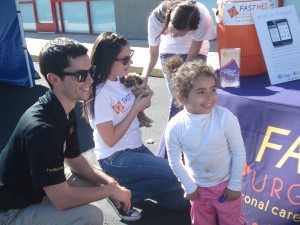 FastMed opened its second urgent care clinic in Tucson this past weekend with another amazing turnout at 1895 W. Valencia Rd.
With more than 300 people attending the open house celebration, great times were had by all who came! In attendance were Miss Rio Nuevo, COO of the Tucson Metro Chamber Bill Holmes and Dora & Diego from 'Dora the Explorer' Children got a chance to dance with their favorite cartoon characters with the musical tunes being supplied by Tucson's #1 Hit Music Station 93.7 KRQ.
You can Click Here to check out pictures of the event, and while you are there make sure to like our Facebook Fan Page! If you'd like to stay up-to-date with the latest news from FastMed Urgent Care make sure to follow us on Twitter!Thanks to the enthusiasm and effort of our street team and marketing team, local residents stopped by to check out the brand new state-of-the-art clinic FastMed has to offer. Many attendees came by to sign-up for our FastMed's Savings Plan. FastMed offers the program to patients without health insurance. The new urgent care clinic saw more than twenty patients thanks to a one-time-only offer of $10 flu shots.
If you would like a chance to take pictures with Dora & Diego, enjoy free food and a chance to meet us at FastMed join us February 11, 2012 for our Open House Event located on 2460 N. Swan Road in Tucson. By opening the new clinic in Tucson, the total of FastMed Urgent Care clinics reached ten in Arizona with two more in the Tucson area in the upcoming month!
-Written by Alec Stokes