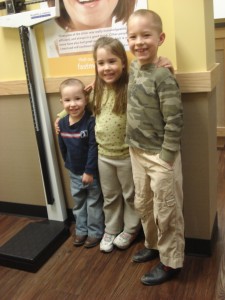 Another FastMed Urgent Care grand opening, another record-breaking turn out this past weekend in Marana!
More than 400 people came out to the Open House celebration to witness the festivities taking place.  In attendance were the Marana Chamber of Commerce, Marana Fire Department (fire truck too!), Miss Rio Nuevo and President, Vice Mayor of Marana Patti Comerford and COO of FastMed Urgent Care Kevin Blank.
You can Click Here to check out pictures of the event, and while you're there make sure to like our Facebook Fan Page! Also, if you'd like to stay up-to-date with the latest news from FastMed Urgent Care make sure to follow us on Twitter!A round of applause goes to an amazing street team grabbing the attention of drivers passing by and an outstanding marketing department spreading word of the event to local businesses and via Twiter. Marana citizens got to see what our brand new clinic had to offer with four examination rooms, free blood pressure checks and $10 flu shots. Visitors had the chance to hang out with the local fire department, enjoy free food and listen to musical tunes supplied by My 92.9 radio station!
If you like music, free food and a chance to meet us at FastMed join us January 28, 2012 for our Open House Event located on 1895 W. Valencia Road in Tucson. By opening the new clinic in Marana, the total of FastMed Urgent Care clinics reached nine in Arizona with three more in the Tucson area in the upcoming weeks!
All of us at FastMed look forward to seeing you there!
–Written by Alec Stokes