Flu Shot Locations at FastMed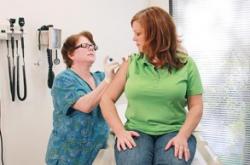 Every October, flu season begins and people start talking about their flu shots. Did you know the CDC suggests that everyone over 6 months of age should get a flu shot? Still, too many people think that flu shots are for older adults or healthcare workers. Influenza (flu) is a contagious disease that affects the lungs and can lead to serious illness, including pneumonia. Even healthy people can get sick enough to miss work or school for a significant amount of time or even be hospitalized.  If you are looking at various flu shot locations, here are some things to consider:
At a Doctor's Office: Your doctor will definitely be able to give you a flu shot. The issues are cost and convenience. If you have to set up an appointment and pay for an office visit, the flu shot will definitely be more expensive than at an urgent care clinic.
Convenient Clinics: A convenient care clinic is usually located in a supermarket or drug store. Sometimes these are actual clinics that provide preventive health services; sometimes they are just a table with a nurse practitioner who gives you a flu shot. These clinics are not equipped with the appropriate medical diagnostic tools or equipment that you would find at walk-in medical clinic like FastMed.
Urgent Care: FastMed Urgent Care clinics in NC or AZ are already located in your neighborhood, so we are quite easy to locate. What's even better is that you get your shot in a medical environment where our staff is prepared to take the time to answer your questions.  All FastMed Urgent Care clinics employ medical professionals, including doctors. We have the same expertise as the doctor's office, but you just pay for your flu shot at your convenience– just like all of our services. We welcome you in the morning, after work, or on the weekend.  Just type in your zip code and find the location nearest to you.
 FastMed flu shot locations are open 365 days per year and boast extended hours. If you want the convenience of a drugstore clinic but also want a professional environment, then come to FastMed. We've got you covered.
FastMed Flu Shot Locations by State
Additional Articles:  
Low Cost Urgent Care |  Walk in Clinic |  Flu Shot Clinics | Flu Shot Locations | Clinics