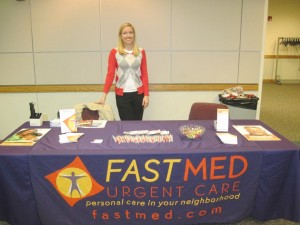 FastMed Urgent Care attended the Monroe Community Health Fair 2011 this past Saturday at the Monroe South Piedmont Community College. We had a great turnout with over 100 people stopping by and getting a hearing check with our Practice Manager Lee Ann Hartley.
"I was pleased that I was able to come out and give hearing checks to attendees" said Hartley. "It is so important for those within the community to know that we believe in personal care and I am committed to giving the best possible care and prompt attention to each and every individual that is seen as a patient at FastMed".
FastMed in Monroe opened this past September with a grand opening community event and is open 365 days a year, including all holidays, Thanksgiving, Christmas and New Year's Day.
"Being an integral part of the healthcare system here in Monroe is so very important, we fill a very important needed between our patient's primary care and a visit to the ER." Reuel Heyden Dir. of Community Relations for FastMed.