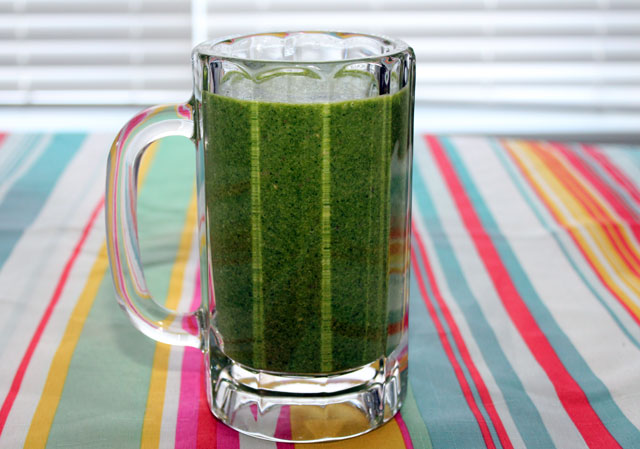 There's no better way to get your daily serving of fruits and vegetables than in a delicious smoothie. This green monster smoothie is a kid-friendly favorite, and packs in nutrient-loaded vegetables including kale and spinach. Mix and match with what you have on hand; add in some cucumber, or make it a bit creamier with an avocado or Greek yogurt instead of milk. The rule of thumb when making green smoothies is to add liquid first, then leafy vegetables, and then bigger chunks of fruits or veggies. Follow those guidelines and you'll be making tasty smoothies in no time – starting with this one!
 What You Need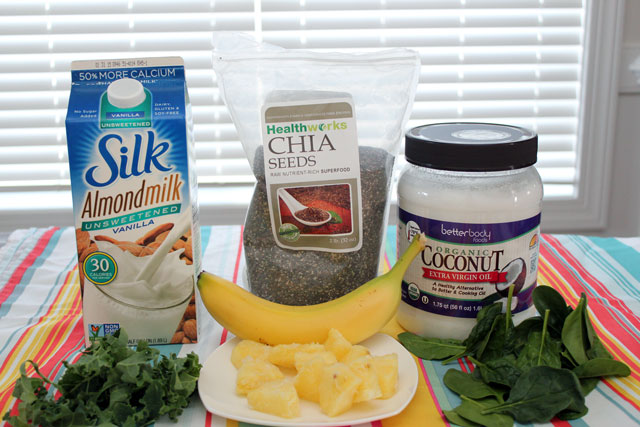 2 cups almond milk (or your milk of choice)
1 Tbsp. coconut oil, melted
2 Tbsp. chia seeds
2 cups spinach
2 cups kale
1 medium banana, cut into chunks
1 cup pineapple chunks, frozen
What to Do
Pour the milk and melted coconut oil into the blender. Then, add the kale, spinach, and chia seeds. If you have a food scale, use it to measure 170 grams (4 cups) of greens, as a cup measure isn't the most accurate way to measure leafy vegetables. The picture below shows what 2 cups of kale looks like in the blender.
If your blender is full, blend what's in there before adding the rest of the greens
Put in the banana and pineapple chunks, and blend thoroughly. Pour and enjoy!