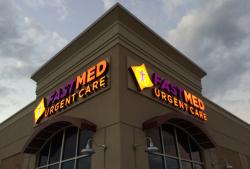 Finding a health clinic that is open late can be challenging. Most healthcare providers open late and close early, which doesn't always fit your busy schedule. You shouldn't have to take off work or keep your kids out of school for a physical, flu shot, or X-ray. FastMed's health clinic in Hickory, NC, is open late, making it easy for you to be seen by a medical provider before work or after school, every day of the year.
FastMed Urgent Care is a health clinic that is open late to provide you with a variety of services, including:
Urgent Care: For non-life-threatening illnesses or injuries.
Family Practice: FastMed's family practice provides services for patients of all ages. We offer check-ups, vaccinations, preventative health care, and more!
Sports Medicine: Our sports medicine program's on-site services include, physicals, x-rays, castings, braces, splints, and injections. We can also treat sports related medical concerns such as concussions, asthma, or sports physicals.
Occupational Health Services: You can partner with FastMed to provide your employees with health services that fit their busy schedules.
Physicals and DOT Physicals: In addition to sports physicals we provide physicals for school purposes, regular adult check-ups, and DOT physicals for truck and bus drivers.
Flu Shots & Vaccinations: We offer on-site flu shots and other vaccinations for children and adults, no appointments necessary.
Urgent Care for Injuries and Accidents: FastMed's experienced staff of qualified medical professionals can treat injuries and traumas like burns, insect bites, and falls and fractures (and much more).
Need a Health Clinic That is Open Late? Visit FastMed Urgent Care in Hickory, NC
Don't miss out on work or school when you can visit FastMed in the evening. FastMed's clinics are staffed with qualified medical professionals dedicated to making sure our customers receive fast and affordable personal care, 365 days a year. Our health clinic in Hickory, NC, is open from 8am-8pm during the week, and 8am-4pm on the weekends.