FastMed Urgent Care is a quick and convenient walk-in clinic open 365 days a year. If you're looking for a health clinic open late in Winston-Salem, NC, FastMed is the perfect place to meet your immediate healthcare needs. FastMed's walk-in clinics are open 7 days a week with extended hours, so you can come in whenever is most convenient for you.
Whether you need treatment for illness, infection, or injury, or you just need a routine physical exam or vaccine, FastMed's qualified medical professionals can provide it.
FastMed is a Health Clinic Open Late for Your Convenience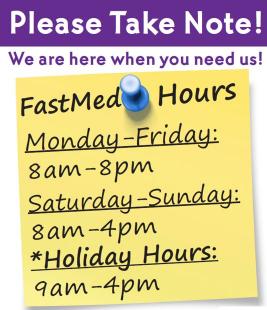 FastMed has health clinics open late in Winston-Salem, NC, so you can always find care close to home. Our compassionate medical professionals are available to help you throughout the week, including extended evening hours, and on the weekends!
If you need medical attention for an immediate concern, such as illness, infection, or injury, FastMed's trained healthcare professionals are equipped to get you the treatment that you need. Our goal is to get you in and out within an hour, so a trip to a FastMed Urgent Care is typically much faster than a trip to the emergency room if you have a non-life-threatening condition.
You can even help lower your wait time by using our ZipPass online check-in system, which can be especially helpful if you are planning to come in for a routine physical or vaccination. ZipPass lets you know when the next available check in time is so you can increase your chances for a shorter wait time.
FastMed's walk-in clinics are generally much more inexpensive than a visit to the emergency room, as well. We accept most major insurance plans to ensure that quality healthcare remains at a low cost to you.
No matter what kind of treatment you are looking for, FastMed is a health clinic open late in Winston-Salem, NC, that is equipped to meet all of your healthcare needs in a timely manner.