The common cold and the flu are both contagious upper respiratory infections. They share a number of symptoms, but the flu typically includes chills, body aches, high fever, and fatigue. If you experience common symptoms of a runny nose, sore throat, and mild cough without a high fever or intense body aches, you most likely have a cold and are not suffering from the flu.
Common Cold Symptoms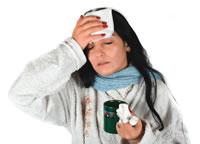 A cold usually passes quickly but can last for as long as two weeks. The symptoms are usually all above the neck (nose, throat, sinuses, and head) and build up over a two day period.
Runny or stuffy nose
Sore throat
Sneezing
Mild-to-moderate fever (more likely in children)
Cough
Headache
Mild fatigue
Signs of the Flu
When the flu strikes, it usually strikes with a vengeance and is much more relentless than a cold.
The most common flu symptoms are:
Dry, hacking cough
Moderate-to-high fever
Sore throat
Chills
Intense muscle and body aches
Headache
Stuffy and runny nose
Extreme fatigue (which can last up to two weeks)
Some individuals may also experience vomiting and diarrhea as a result of the flu.
Do You Have a Cold or the Flu?
While some symptoms of the common cold and the flu are similar, there are definite differences between the two viruses, as mentioned above.
Here is a quick contrasting guide to the most noteable symptomatic differences between the two:
Fever:
Cold – Sometimes evident, though typically mild
Flu – Frequently around 100-102℉ and generally lasts about three or four days
Headache:
Cold – Occasionally present
Flu – Common
General aches and pains:
Cold – Slight
Flu – Severe
Extreme exhaustion:
Cold – Not typical
Flu – Expected
Know if You Have a Cold by Visiting FastMed Urgent Care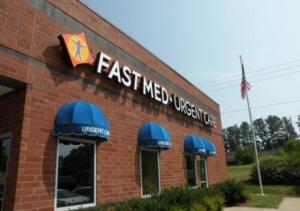 If your cold doesn't improve after a week, it's a good idea to talk to a medical professional. You could potentially have the flu, seasonal allergies, or a bacterial infection which could be treated with antibiotics.
The medical professionals at FastMed Urgent Care provide care that is fast, high quality, and affordable. Our goal is to get you in, treated, and back on your way in under an hour.
We offer extended weekday hours and weekend availability, so we're here when you need to know if you have a cold and how to treat it!
Explore our Health Resources Center for more answers to your health questions, and check out what one of our FastMed Urgent Care patients has to say about our quality care:
"Being sick stinks, but my experience at the urgent care clinic was top notch. ALL of the staff were kind, helpful, and good listeners. The medical center was much more attractive than the typical walk-in clinic and the service was amazing. If I had to feel bad enough to see a family doctor, at least I was fortunate to have a clinic like this one nearby. Thank you!!!" – Kim. R.