I had a little bird
Its name was Enza
I opened a window
And in-flu-enza.
This was a popular nursery rhyme during the influenza pandemic of 1918 that killed over 20 million people. Luckily, the flu is now rarely fatal in the United States; in fact, it is usually simple to treat. Because the symptoms of the flu and the common cold overlap, the most difficult part of treating the flu is recognizing that you have it, not a cold.
So, you're probably thinking, "This begs the question of how to tell if I have the flu!" In Candler, NC, residents have a great resource: FastMed Urgent Care. FastMed is available, with no appointment, 7 days a week. Our goal is to provide quality medical care with compassion and efficiency.
How to Tell if You Have the Flu in 3 Simple Steps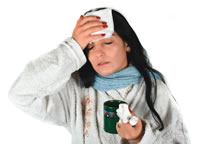 Here are some clear ways to help determine if you are suffering from the flu or a persistent cold:
Although the symptoms of the flu and the common cold are similar, the symptoms of the flu are much more severe. Some common flu symptoms are body aches, sore throat and cough, vomiting and diarrhea, chills, and a congested or runny nose. For people suffering from a common cold, these symptoms are usually mild and last only a couple days, whereas people suffering from the flu may experience these symptoms for weeks.
People with the flu will usually have a fever of 100 degrees or higher; cold sufferers may develop a low-grade fever, or no fever at all.
See your healthcare provider as soon as you start to get sick, and they can administer a simple flu test to know for sure.
FastMed Urgent Care is located on Smokey Park Highway in Candler, NC, and accepts all major insurance plans. Our mission is to serve our communities and patients with a high level of quality, personal care, affordable and convenient urgent care, family practice, and other specialty medicine services. Want to stop the flu before it starts? We offer flu shots!