Influenza (aka the flu) is a serious illness that affects millions of people every year. Since it is highly contagious, it is important to be able to recognize influenza symptoms early and seek medical attention.
What is Influenza? Am I at Risk? What are Influenza Symptoms?
Influenza (the flu) is a contagious respiratory illness that can affect just about anyone. While it is possible to get influenza anytime, cases tend to increase from October to March. People who are especially at risk for the flu and who have a higher chance of flu complications include:
Pregnant women
People with blood disorders, such as sickle cell disease
Young children
People with heart disease
People over the age of 65
People with kidney and liver disorders
Influenza Symptoms:
Chills
Body aches
Cough
Headache
Sore throat
Fatigue
Nausea
Vomiting
Diarrhea
Influenza Vs. The Common Cold
Since many influenza symptoms and cold symptoms are similar, it can be difficult to tell which one you are suffering from. The CDC advises against relying on your symptoms alone to determine if you have influenza or a cold. If you think you have the flu, it is important to see a doctor immediately.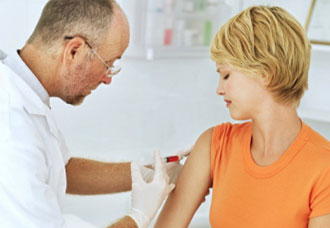 What You Can Do to Prevent Spreading and/or Contracting Influenza:
If you are showing signs or symptoms, stay at home
Wash your hands frequently with soap and water
Disinfect surfaces in your home or workplace that are frequently touched
Do not share drinks or utensils with someone who has influenza
If a family member gets sick, wash their bedding and clothing
Bring your own pen to banks and stores
Avoid touching your nose and mouth with your hands
Get a flu shot annually
Open 7 days a week, FastMed offers walk-in flu shots, vaccines, and other health services at convenient locations all over North Carolina and Arizona. At FastMed, our goal is to offer the best healthcare available while saving you time and money.