When You've Got Influenza Symptoms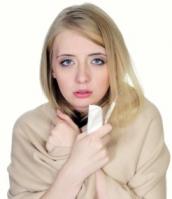 If you think you have the flu, please get to your local FastMed walk-in clinic as soon as possible. You can be tested for flu and treated for influenza symptoms. The CDC highly recommends that most people over six-months old get vaccinated with a flu shot.  Influenza is a very serious virus and should not be taken lightly. 
Flu vaccination is an important preventative tool for people with chronic health conditions. Vaccination was associated with lower rates of some cardiac events among people with heart disease, especially among those who experienced a cardiac event in the past year.
Influenza symptoms include:
Feeling feverish or having a fever (not everyone gets one)
Stuffy nose
Headaches and/or body aches
Cough and/or sore throat
Weakness or fatigue
Chills and inability to get warm.
Children may experience nausea and diarrhea.
Help for Influenza Symptoms at FastMed
If you have influenza symptoms, it's best to get to FastMed Urgent Care as soon as possible.  We can test you for the flu and, if needed, provide antiviral drugs that may help reduce the duration and severity of the influenza symptoms.  Antiviral drugs are not the same as antibiotics. Antibiotics are for bacterial infections; they will do nothing to relieve influenza symptoms.
If you are exposed to someone with the flu, you may also want to talk to the medical team at FastMed, especially if you are at risk for flu complications.
Influenza symptoms can be dangerous for:
Pregnant women
Children under two
Adults over 65
American Indians or Eskimos
People with asthma, COPD or chronic respiratory disease
People with kidney or liver disorders and weakened immune systems
FastMed is open every day of the year, including holidays. We welcome walk-ins, accept most insurance plans, and even offer a discount program to help you manage your healthcare cost. As soon as your influenza symptoms appear, get yourself to FastMed so we can help you feel better.
More Articles:  The Flu | Influenza A Symptoms |  Flu Symptoms in Adults |  Flu Shot Locations | Discount Program |Locations By State