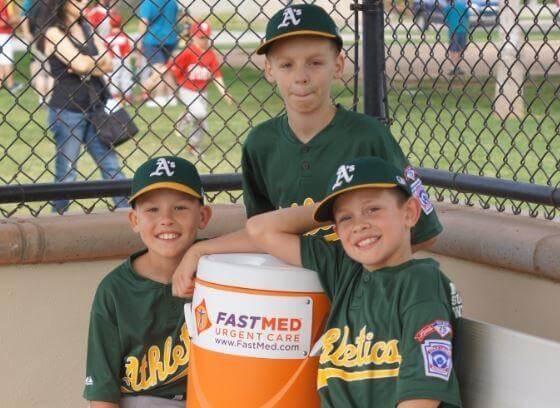 FastMed Urgent Care is offering community sports and organizations a way to beat the heat this summer. As a way to keep recreational athletes hydrated, FastMed provides a free FastMed 5-gallon water cooler to promote healthy hydration, educate on heat recognition and help players avoid heat-related illness and sports injuries.
Below are some common questions and answers about FastMed's water cooler program. 
Who qualifies for a 5-gallon water cooler?
School, sports and community organizations that are located in communities FastMed Urgent Care clinics serve.
Here are just a few examples of sports and community organizations that have benefited from FastMed's Keep Cooler Program:
North Carolina High School Athletic Association
American Heart Association
American Diabetes Association
YMCAs
Arizona Youth Soccer Association
Boy Scouts of America
I9 Sports
5K runs, walks and triathlons
How do I request a cooler?
To request a cooler for your sports team or community organization you can either:
Call your local FastMed Urgent Care
What is the price of the cooler?
There is no cost or obligation to participate in the FastMed Keep Cooler program. The 5-gallon FastMed cooler free of charge.
I love the FastMed Keep Cooler Program! How Can I show it?
FastMed would love to see your athletes in action! Please send a digital picture of your team around our water cooler, your coach Gatorade or poweraid dunked with a FastMed water cooler, or athletes staying hydrated with FastMed water cooler! Send your pictures to nc_marketing@fastmed.com for North Carolina teams or az_marketing@fastmed.com for Arizona teams.
Post your team athlete pics around the FastMed water cooler on your website, Facebook, Twitter, Instagram, Pinterest and your other favorite networking sites!
May I get a new FastMed 5 gallon water cooler?
Yes! If your FastMed water cooler has seen better days and needs to be retired, contact your local FastMed or visit our website and request a new one!
Have fun and remember to Keep Cooler!