FastMed: Your Local Healthcare Provider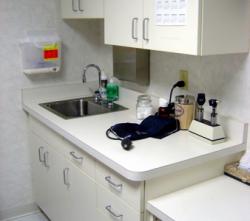 FastMed Urgent Care is your neighborhood healthcare provider with local walk-in medical clinics designed to provide community-based healthcare. As a professional healthcare provider, FastMed's modern, state-of-the-art walk-in clinics have on-site labs, digital x-rays, and EKG equipment. We treat common conditions such as strep throat, bronchitis or seasonal allergies and attend to non–life-threatening illnesses and injuries every day of the year, weekends and holidays included.  Our goal is to get you in and out within an hour's time, while the average wait time at an emergency room is roughly four times longer.
FastMed is a neighborhood medical center and works to meet the needs of the community. FastMed healthcare providers will conduct regular checkups and physicals for sports, work, school or licensing by the Department of Transportation (DOT). We offer flu shots and help patients manage high blood pressure and diabetes, provide services to support women's reproductive health. 
Choosing Your Neighborhood Healthcare Provider
When deciding on a healthcare provider, quality, convenience and affordability are three factors to consider.  
FastMed wants to make it easy for you to prioritize your health:
Quality Healthcare Provider: All FastMed medical professionals are licensed and certified. Our walk-in clinics have state of the art equipment and use the latest digital records technology.
Convenient Healthcare Provider: FastMed locations are based in your community. Open 365 days a year, we operate with extended hours and welcome walk-ins.  
Affordable Healthcare Provider: FastMed accepts most major insurance plans and offers a discount membership program to help manage healthcare costs. FastMed a quicker, more convenient and cost saving alternative to the emergency room when you are facing a non-life-threatening injury or illness.