Pneumonia Symptoms: Making a Diagnosis Quick and Easy
Pneumonia is a lung infection where air sacs become inflamed. Symptoms can range from mild to severe.    Without treatment, pneumonia can get worse and cause fluid accumulation in the lungs, a lung abscess, or bacteria to enter the bloodstream. Treating pneumonia is a two-step process, first by curing the infection and then by treating and preventing any complications.
What to Know and What to Ask about Pneumonia Symptoms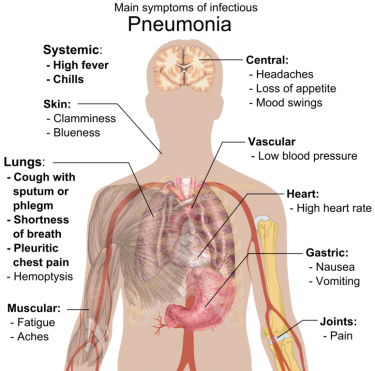 Pneumonia has a variety of possible causes. Bacteria, viruses, and fungi float around in the air we breathe every day, but usually your body's immune system fights them off and protects your lungs from infection. However, in the event that bacteria, a virus, or fungi overpower your immune system, an infection can occur and cause pneumonia.
The sooner pneumonia is caught, the less likely complications will arise. If you have pneumonia, you might experience:

Fever and Chills
Aches and Fatigue
Chest pain and difficulty breathing
Phlegmy cough
Nausea or vomiting
Diarrhea
When seeking medical care for pneumonia symptoms, you don't have to wait to make an appointment with your primary care practice or experience long waits at the ER. FastMed Urgent Care clinic is affordable alternative to the ER for non-life-threatening conditions and features extended hours during the week and on weekends and holidays.
We're proud to provide high quality treatment to each of our patrons as well as a clean and comfortable environment. Come by one of our locations today and get the treatment you need to relieve your pneumonia symptoms.