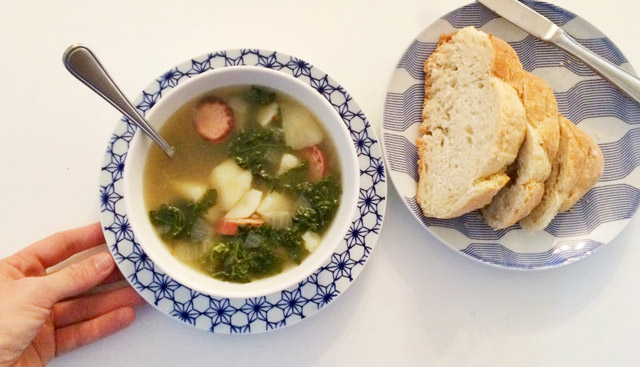 Fall is here with winter on its heels. This delicious sausage, kale, and potato soup will warm you up from the inside out. Plus, it's stuffed with nutrients! Kale is the superfood of all superfoods. It's high in iron and absolutely packed with vitamins A, C and K, which are great for your vision, skin, and can help protect against various cancers. Per calorie, kale has more calcium than a glass of milk and more iron than a piece of beef! This soup has a light broth, but the potatoes and sausage make it a hearty winter meal. For a little extra heat, a pinch of crushed red pepper pairs perfectly with the sausage and potatoes. It will warm you through and through.
What You'll Need:
8 oz fully-cooked turkey sausage, sliced
1 medium onion, chopped
1 T minced garlic
6 cups chicken broth (we recommend low-sodium)
3 medium potatoes, peeled and cut into 1/2-inch chunks
12 oz fresh kale, stems removed and leaves chopped (8 cups)
Crushed red pepper (optional)
What to Do:
Heat a large pot over medium-high heat. Add sausage and sauté 5 minutes or until browned.
Add onion and garlic; sauté for 3 minutes, or until the onion becomes translucent.
Add chicken broth and bring to a boil.
Stir in potatoes and kale. Simmer, partially covered, for about 12 minutes, or until potatoes and kale are tender. Serve with crushed red pepper, if desired.
All soups are delicious when served with a crust of rustic bread. Enjoy this delicious recipe and all the health benefits of kale this winter.