<![CDATA[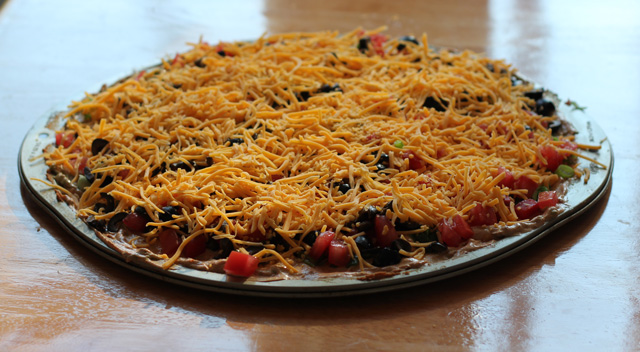 Whether you're going to a Cinco de Mayo party or just having a little fiesta at home with your family, this seven layer Tex-Mex dip will make a welcome prelude to any lunch or dinner. Serve with sturdy tostadas or nacho chips – you'll want to get as much dip as you can, so no wimpy, fragile chips allowed! I always make it in a pizza pan…and I usually double the recipe! 
What You Need
3 ripe avocadoes
2 Tbsp lemon juice
½ tsp salt
¼ tsp pepper
1 cup sour cream
½ cup mayonnaise
1 pkg taco seasoning mix
2 (9 oz) cans of bean dip
1 cup chopped scallions
3 medium tomatoes with the insides scooped out, chopped
8 oz shredded sharp cheddar cheese
2 (3.5) oz cans pitted ripe black olives, chopped
What to Do 
Mix the avocadoes, lemon juice, salt, and pepper in one bowl. In a second bowl, mix the sour cream, mayonnaise, and taco seasoning.
Get out your pizza pan or other flat dish and spread the bean dip in an even layer. Top the bean dip with the avocado mixture, and then spread the sour cream mixture on top of that.
Sprinkle with scallions, tomatoes, and olives, and finish with a layer of cheese. Refrigerate and serve. 
]]>