Sinusitis, commonly referred to as a sinus infection, is the inflammation of the nasal passages.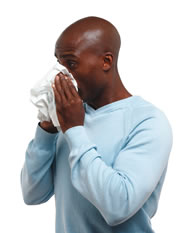 Symptoms of sinusitis include:
headaches

sore throat

congestion

post nasal drip

cough

fatigue and

nasal discharge
There are many different causes of sinusitis, such as bacteria, viruses, allergens, and even chemicals or pollutants. There are often an increased number of sinus infections in the spring and fall when allergens become more prominent.
Viral sinusitis usually resolves in 7-10 days and is effectively treated with rest, fluids, and over-the-counter antihistamines, decongestants, and nasal sprays.  Research has shown that approximately ninety percent of sinus infections are caused by a virus. Antibiotics are not effective in treating viral sinusitis.
Bacterial sinusitis often develops following allergic or viral sinusitis. Regardless of the cause, sinus infections are rarely difficult to treat unless they occur frequently. Frequent sinus infections, or chronic sinusitis, may require evaluation and treatment by a specialist. Patients with bacterial sinus infections usually have been symptomatic for over 1 week, have moderate to severe headaches and facial pain, fevers and colored mucus.  Antibiotics are helpful when treating bacterial sinusitis.
Evaluation and treatment of sinusitis is available at any FastMed Urgent Care location. FastMed's professional and knowledgeable doctors, physician assistants and nurse practitioners are able to diagnosis and treat sinusitis in a friendly and convenient manner. FastMed has also partnered with MedVantix to provide free sample generic prescriptions to patients who are seen at FastMed Urgent Care. If you have symptoms of a sinus infection, come to FastMed and allow the caring staff to help diagnose and provide care.
Chris Van Ooteghem, MS PA-C
Practice Manager, FastMed Cary and FastMed Apex