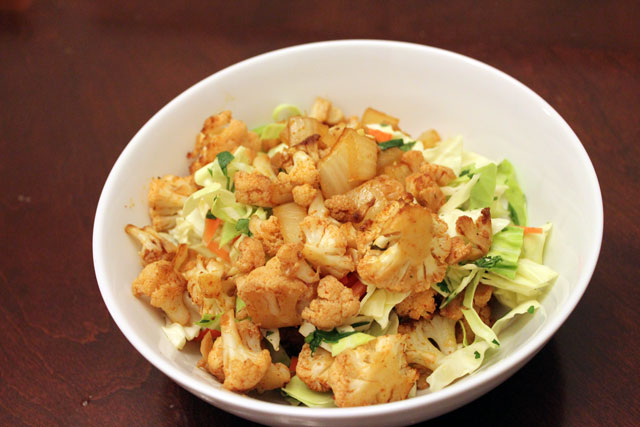 This spicy side dish is anything but boring! If you think you don't like cauliflower, prepare to be amazed; your perceptions of this underused vegetable are about to change.
This side has all the nutrients of cauliflower: you'll get more than your daily dose of vitamin C, and it can even help with weight loss. Cauliflower is in season all year, so it's a great dish to add to your rotation.
Be forewarned, though – it can be overwhelming for some diners. Remember, you can always add hot sauce or chili powder to your individual serving, but you can't take it away once it's on there!
What You Need
1 head of cauliflower, chopped into small florets
1 yellow onion, diced
¾ cup of beer
¼ cup chicken broth
1 Tbsp lime juice
1 Tbsp hot sauce
1 Tbsp olive oil
2 tsp soy sauce
2 tsp minced garlic
1 tsp paprika
1 tsp garlic salt
1 tsp chili powder, or to taste
¼ tsp cumin
1 avocado (optional)
What to Do
Preheat your oven to 400°. Mix the beer, chicken broth, lime juice, hot sauce, soy sauce, and garlic in a large skillet and heat on a medium setting.
Once it's hot, sauté the cauliflower in the sauce for about 2 minutes, stirring regularly.
Drain the liquid and put the cauliflower in a large bowl. Add the olive oil, diced onion, garlic salt, cumin, paprika, and chili powder and stir until everything is nicely coated.
Cook the cauliflower in a casserole dish at 400° for about twenty minutes, stirring halfway through.
Serve as a spicy side dish – add avocado to cool down the heat, or try it with our Mexican Coleslaw!