<![CDATA[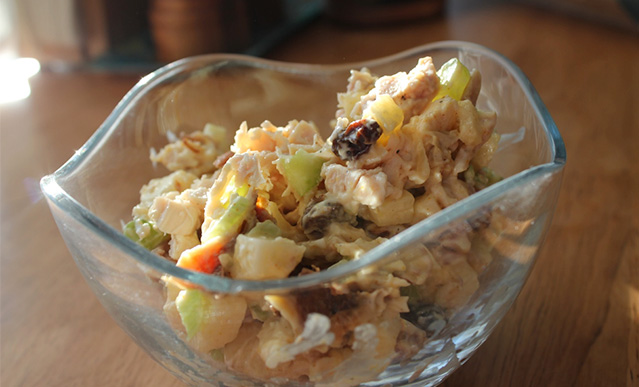 A chicken salad sandwich makes a delicious spring lunch. Perfect for picnics, you can serve this salad in a pita, on crackers, on a croissant, on a bed of lettuce…the possibilities are endless! There are several options for the chicken. I took the easy way and bought a rotisserie chicken from the grocery store, but you can use leftover chicken breasts or even canned chunk chicken. With just the right amount of crunch, your taste buds will be begging for more!
What You Need
4 cups chicken breast, cubed
2 stalks celery
1 red delicious apple, peeled, cored, and chopped
¾ cup low-fat mayonnaise
½ cup chopped nuts (I used slivered almonds, but walnuts are good, too)
⅓ cup raisins or craisins
⅓ cup green grapes, halved
½ tsp curry powder
Pepper to taste
What to Do 
Mix everything in a bowl. Chill for two or three hours to give the flavors a chance to mingle, and serve!
]]>