Searching for a top notch urgent care clinic in High Point, North Carolina? The search is over! Just put your zip-code into this convenient office finder and get the hours, addresses and phone numbers of a FastMed in  your city.
High Point, North Carolina, is known as a manufacturing city, most notably for products like textiles and furniture. In fact, from the High Point Convention and Visitors Center's website, you can shop for furniture, connect with innovative furniture designers, or get helpful shopping tips. If you want this same level of service and satisfaction when it comes to your medical care, come to the top clinic in High Point, North Carolina: FastMed Urgent Care.
You can visit a FastMed walk-in clinic in High Point any day of the year. Top clinics are open on weekends and all holidays and have extended hours on weekdays. You can come in before or after work or school to get the medical care you need for non-life-threatening conditions and illnesses as well as additional medical services.
Medical Services at the Top Clinic (High Point, North Carolina)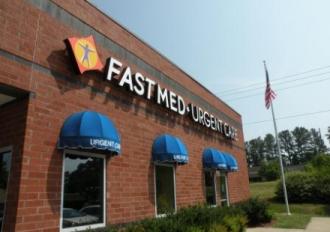 When you're looking for a top clinic, High Point, North Carolina, residents can get a variety of affordable medical services. And at walk-in clinics, you don't need an appointment. Plus, on-site labs ensure you get your test results as soon as possible.
Here are some of the various medical conditions and injuries treated and diagnosed at the FastMed top clinic in High Point, North Carolina:
Flu and cold symptoms
Mild asthma
Cough or sore throat
Allergy issues
Minor infections
Rashes and skin conditions
Lacerations
Fractures, sprains, and strains
Broken bones
Minor burns
Insect bites or stings
FastMed Urgent Care is the top clinic for medical care in High Point, North Carolina. In addition to treating non-life-threatening injuries and illnesses, the medical professionals at FastMed Urgent Care can also assist you with acute and chronic illness management for issues like hypertension, high cholesterol, and diabetes, assist you with weight loss, help you kick your nicotine habit, or administer a vaccination or flu shot. We can even give you a physical for work or school.
When you visit a top clinic, High Point, North Carolina, residents can count on receiving prompt, personal medical care. At FastMed, it's our goal to get you the treatment and services you need in an hour or less. Learn more about our clinic through our FAQs page, and be sure to like us on Facebook.