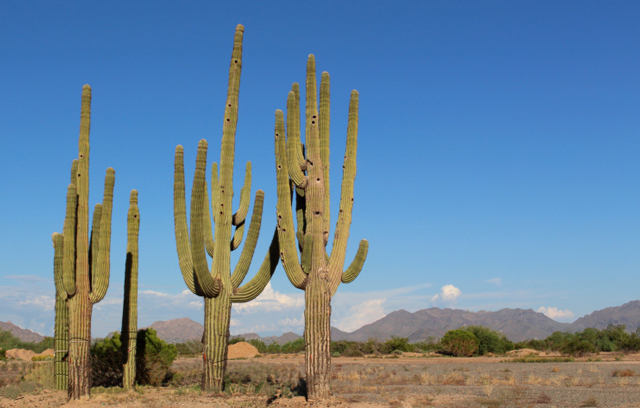 Tucson's mild temperatures and sunny winter skies are a beacon for thousands of snowbirds migrating south to thaw out. But as a resident of the "Old Pueblo," you are fortunate enough to enjoy all 340 sunny days that Tucson averages every year. With summer temperatures that can inch into the triple digits, you know that the mild winter months are the best time of year to take advantage of all the healthy outdoor activity options the city has to offer. Check out our recommendations for the top things to do outdoors in Tucson while the weather is (relatively) cool.
Arizona-Sonora Desert Museum
The Arizona-Sonora Desert Museum is really a zoo housing over 230 indigenous species and 1,200 plant varieties in their natural desert habitat. Twenty-one of the museum's 98 acres traverse two miles of walking paths, making the mostly outdoor experience as authentic and enjoyable as it is good for you. It's no wonder Trip Advisor named the museum the top Tucson attraction!
Catalina State Park
Catalina State Park offers breathtaking views of Tucson and the surrounding mountains from the edge of the Catalina Foothills district at the base of the Santa Catalina Mountains. The park is home to roughly 5,000 saguaro cacti, and hosts 5,500 acres of canyons, streams, desert plants, and wildlife. The park has excellent hiking and horseback riding trails, all within minutes of Tucson metropolitan area.
Saguaro National Park
There's no better place near Tucson to check out cacti than Saguaro National Park. The aptly-named park's 91,327 acres are divided into two districts: Rincon Mountain to the east and Tucson Mountain to the west. Both districts feature hiking trails perfect for viewing hundreds of saguaro cacti. Visit the Signal Hill trail in the Tucson Mountain District to check out the prehistoric Native American Hohokam petroglyphs.
Pima Air & Space Museum and "The Boneyard"
One of the more unusual attractions Tucson has to offer is the Pima Air & Space Museum. Among the world's largest air and space museums, Pima Air & Space is home to more than 300 aircraft spread over 80 of the facility's 127 acres. For bonus outdoor activity, go next door to Davis-Monthan Air Force Base to visit the "The Boneyard," the largest aircraft storage and preservation facility in the world. With a majestic mountain vista as a backdrop, the "Graveyard of Planes" is the final landing place for dozens of decommissioned aircraft, spread out under the desert sun.
Whatever you choose to do outdoors during the winter months, let FastMed help you stay healthy. When you are happy, healthy, and active you'll be able to enjoy all Tucson has to offer year round.