Wondering where to find a clean, prompt and professional urgent care clinic? Just put your zip code into our convenient office finder and find hours, address and phone number of all FastMed clinics nearby.
Medical needs have a way of unexpectedly creeping up during the busiest time of year, causing quite an inconvenience. There was a time where you only had two options for care – either call to be put on your primary physician's waiting list, or block off a day of your schedule to sit inside a crowded ER. FastMed has set the standard for a better way of addressing your basic health needs. Our facilities are clean and equipped with modern technology to get you in and out and on with your day. Visit any one of the many FastMed Urgent Care locations to receive quality health care that's convenient and affordable.
FastMed FAQs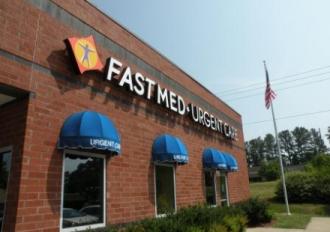 What types of services are offered at FastMed?
We are proud to offer the following services at each of our urgent care locations:
On-site labs
Digital X-rays
Flu shots
Adult urgent care
Pediatric urgent care
Acute/chronic illness management
Injuries and orthopedic medicine
Mild and moderate illness treatment
Sports medicine
Physical exams
Who will be providing care during my visit to FastMed?
A team of experienced medical professionals staffs each facility. Our team is highly experienced in several facets of health care, including injury and trauma.
How long will I wait before a medical professional sees me?
At FastMed, we strive to see each patient within an hour of the arrival time. Our ZipPass service is an online check-in tool that may reduce your overall wait time. You also have the option to complete registration papers prior to your arrival.   
What are FastMed's hours of operation?
FastMed is open 365 days a week. Depending on the location, typical business hours and holiday hours can vary. Be sure to verify the hours of your local FastMed by calling or checking online. Availability ranges may include the following:
Open as early as 7:00 AM and close as late as 9:00 PM on weekdays
Open as early as 8:00 AM and close anywhere from 4:00 PM – 8:00 PM on weekends
Where can I find a FastMed facility?
Our FastMed Urgent Care locations are nestled in the heart of communities across Arizona and North Carolina. Search the entire lineup of FastMed facilities on our website to find the location closest to you.
The next time you're in need of medical attention, skip those amusement park-style lines at the ER and choose FastMed Urgent Care. Our doors are open 365 days a year for your convenience, including holidays and weekends. We accept most major insurance carriers, most credit cards, and personal checks. For qualifying patients without insurance, we offer the FastMed Discount Plan that may aid in health care costs. Wondering if you qualify? Find out more information by viewing the enrollment form on our website.