Find an Urgent Care Medical Center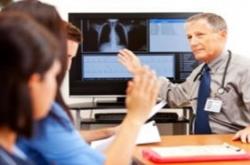 The FastMed Urgent Care is your neighborhood medical center for non-life-threatening illness and injury. So many primary care physicians just aren't taking new patients or the wait for an appointment is months long. FastMed solves that problem – when you get sick, just come on by the nearest FastMed urgent care medical center.  No appointment is need, walk ins are welcome and we're open every single day of the year, including holidays.
Every FastMed Urgent Care medical center is designed with your convenience in mind:
Healthcare Quality: A medical center urgent care should deliver top quality healthcare.  You will never sacrifice quality for convenience at FastMed.
Easy Location: You want a urgent care medical center close to your home or office.  FastMed locations are all across North Carolina and Arizona.
No Wait for an Appointment: Being sick isn't something you can schedule. Walk-ins are always welcome at FastMed Urgent Care and you can check in online
Affordable:  We take most major insurance plans. Plus we offer a discount program to help you manage the cost of your healthcare
Healthcare at a FastMed Urgent Care Medical Center Office
Our services are based on a family medicine model – we're your neighborhood healthcare provider.
Flu shots
Strains/Sprains
Stitches & Suturing
Pap and Breast Exam
Rashes
Skin infections
Strep Throat

STD testing
Upper Respiratory illness
Ear ache/Ear infections
Eye infections
Yeast infections
Flu symptoms
Allergies

Sports Physicals
DOT physicals
Drug Testing
X-rays
Blood Tests
Immigration tests/shots
Please remember FastMed Urgent Care medical center offices are not an Emergency room. This interactive tool offers some suggestions on when to go to urgent care offices versus the ER. But err on the side of caution – ff you have even the slightest concern that your condition is life-threatening, dial 9-1-1 and get to the hospital immediately.