You shouldn't have to go out of your way to receive treatment for a non-threatening illness or minor injury. The days of receiving urgent care at a hospital, following an eternal wait in the ER, are long gone.FastMed Urgent Care in Mesa, AZ, offers quick and convenient treatment for non-life-threatening illnesses and injuries–no appointment needed.
Emergencies are unpredictable and indiscriminate. That is why we we offer more than on-site labs, x-rays, and minimal wait times: we are open every day of the year, including holidays. Our hours extend well into the evening on weekdays, providing hardworking adults with an opportunity to not lose work hours.
FastMed Urgent Care Locations in Mesa, AZ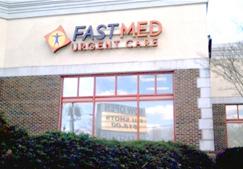 FastMed Urgent Care has 4 locations in Mesa, AZ, including a sports medicine center on S. Signal Buttle Road. Our sports medicine center provides treatment for the following needs:
Acute injuries, such as sprains, fractures, and dislocations
Chronic issues like tennis elbow, runner's knee, or plantar fasciitis
Other sports related medical concerns such as concussions or asthma
Our other 3 Mesa, AZ, urgent care locations provide these services:
Treatment for mild to moderate illness
Treatment of injuries and orthopedics
Physicals for children and adults
Vaccinations and flu shots for children and adults
Acute and chronic illness management, including diabetes, high cholesterol, hypertension, and endocrine issues
Gynecological exams and sexual health care
FastMed Urgent Care locations in Mesa, AZ, accept most major insurance plans and credit cards. We also provide a discount program for qualifying patients who don't have insurance. We do our best to accommodate all consumers because everyone deserves quality health care.
Our mission is to serve our communities and patients with a high level of quality, personal care, affordable and convenient urgent care, family practice, and other specialty medicine services. If you or a family member are sick or injured, we're ready to help!