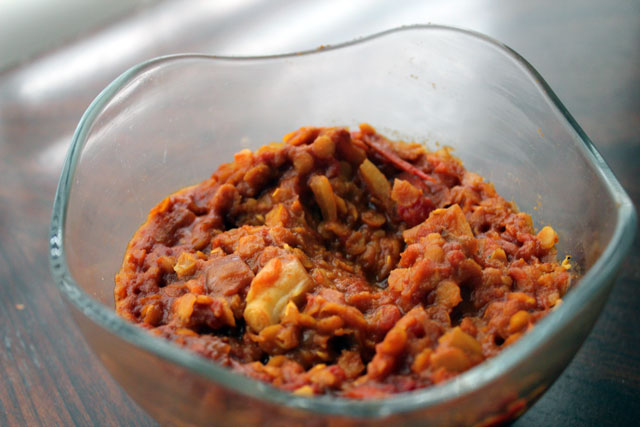 Do you have friends or family members with special dietary needs, but the thought of a vegan or meat-free meal makes you cringe? Well, send out your dinner invitations, because this tasty dish will please everyone. It's free of dairy, gluten, and eggs, but full on flavor. Health-conscious carnivores are often reluctant to give up meat, insisting that they need their protein. But a cup of lentils has 18 grams of protein – half as much as a four ounce serving of grilled chicken breast.
Lentils are a diet staple in India, and they're full of fiber to keep you satiated throughout the day. Serve these curried lentils over a bowl of quinoa for an additional energy boost!
What You Need
2 Tbsp. coconut oil
2 yellow onions, chopped
1 Tbsp. minced garlic
1½ cans (40 oz. total) chopped tomatoes
2 cans (28 oz. total) coconut milk
¼ cup molasses
¼ cup curry powder (This isn't turmeric. You can find curry in the spice section)
1 ½ Tbsp. coriander
1 Tbsp. salt
½ tsp cinnamon
2 ½ cups red lentils
2 cups quinoa (optional)
What to Do
1. Melt the coconut oil in a large saucepan. Add the garlic and onions and sauté for about five minutes, until the onions are translucent.
2. Add the tomatoes, coconut milk, molasses, and spices and bring to a boil. Taste test it to see if you want additional sugar, or spice it up with some chili sauce!
3. Once it's boiling, add the lentils and simmer over low heat for a half hour, or until lentils are soft and tender. Serve over a bowl of quinoa for a complete meal.