The flu is a virus that affects the respiratory system's ability to remove harmful debris, such as dust and mucus. The virus is easily transferable through infected individuals, food, fluids, and objects. Typically, infected individuals are contagious as soon as the day before symptoms are experienced and can remain contagious for up to ten days. Most people infected with the virus make a full recovery; however, the CDC estimates that each year, around 36,000 people die from the flu. Wondering if you are suffering from virus symptoms?
Common Flu Symptoms, Dangers, and Risks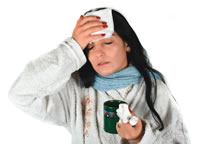 What are common symptoms of the flu?
Virus symptoms caused by the flu can include:
Cough
Sore throat
Fever (100 degrees or higher)
Chills
Body aches
Fatigue
Runny nose
Nausea/vomiting (common in children)  
How do I know when the flu is becoming dangerous?
In most cases, the flu is not fatal. However, the following symptoms may be a cause for concern:
Heavy breathing/Chest tightness. Intense respiratory symptoms are caused by fluid buildup within damaged lungs.
Frequent confusion/Dizziness. May be coupled with nausea, vomiting, or diarrhea.
Cough and fever worsen over time. Symptoms should improve as time goes on. But if there's an increase in cough or fever, seek medical attention, as an additional medical condition may be present.
Who is most at risk of deadly flu symptoms?
The following factors increase the likelihood of death by the flu or flu-related complications:
Young children (most commonly those under two years of age)
Elderly adults
Compromised immune systems from steroid treatment, chemotherapy, HIV, pregnancy, etc.
Protect yourself from the flu and virus symptoms this year by receiving a flu shot from FastMed Urgent Care. Search our extensive list of conveniently located facilities to find the FastMed closest to you. Our staff of experienced medical professionals is able to discuss any concerns you may have regarding the flu shot and the associated side effects. We are determined to provide a comfortable environment that ensures your confidence in our ability to effectively care for your basic health needs. Stop by and see us or check-in online today.