What is Bronchitis: Respiratory Disease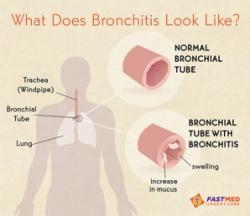 Bronchitis is an inflammation of the mucus membrane in the bronchial tubes. Bronchial tubes are part of the airway system that carries oxygen to the lungs. When the bronchial tube becomes irritated, either as a result of respiratory distress (such as a cold) or exposure to a toxic substance (such as cigarette smoke) the membrane begins to swell, closing off the tubes and making it more difficult to breathe. Bronchitis may present at first as just a cough or chest cold, but if the irritation to the lung continues, it can develop into an extremely serious condition. If you've had a cough lasting longer than two weeks, go to FastMed Urgent and discuss your symptoms with a medical professional.
The symptoms of acute bronchitis include coughing, shortness of breath, fatigue, fever, runny nose and a build up of mucus.  When you visit a medical professional at FastMed Urgent Care, they can help relieve discomfort with prescription prescription cough medicines or inhalers that make breathing easier by opening airways.  FastMed walk-in clinics across North Carolina and Arizona are open 365 days a year, with extended business hours. You don't need an appointment – we're a walk-in medical clinic available as soon as you need medical attention.
What is Bronchitis: Chronic Illness
When bronchitis becomes chronic – persisting for a long time or constantly recurring – the condition becomes much more serious. Chronic bronchitis affects people whose lungs are damaged from illness, smoking or exposure to other respiratory toxins. Chronic bronchitis is sometimes a pre-cursor to a serious lung disease known as Chronic Obstructive Pulmonary Disease (COPD.) Unlike acute bronchitis, which normally runs a week to ten days, the symptoms of COPD can not be reversed. Please visit your FastMed medical professional to learn about preventative measures for chronic bronchitis and COPD.
Other related questions:
How To Treat Poison Ivy | What Causes Ear Infections | Strep Throat Symptoms | Bronchitis Symptoms