My, what a lovely rash you have! But what kind of rash is it? There are a few ways to find out. You could try holding your smartphone up to your skin and self-diagnosing by comparing a grainy Googled photo to whatever it is that you've got.
Or you could take your chances, spin the wheel, and play America's faaaaaaavorite game: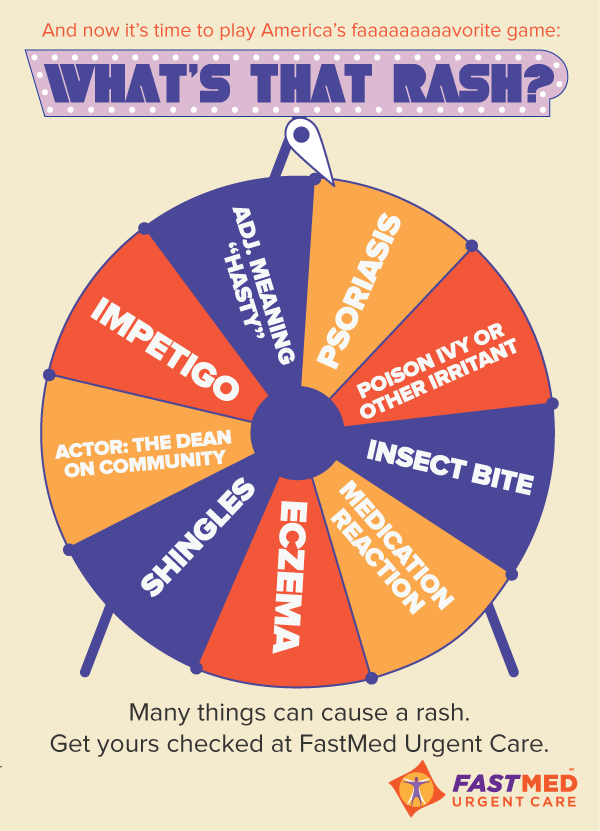 Today's Wheel of Rashes includes classics like poison ivy and insect bites. It also features some of today's trendier rashes, like:
Impetigo: Hey kids – this one's especially for you! Red sores that become oozing blisters that then crust over. Oh yeah!
Eczema: Red. Itchy. Scaly. MedlinePlus Medical Encyclopedia says it "tends to happen in people with allergies or asthma." But when you get it, you'll say "I'm ready to party!"
Shingles: If you liked the chickenpox, you'll love shingles. It's a blistery wonderland of painful fun.
Psoriasis: Red itchy scales on your joints and scalp? Yes, please! Bonus: it can also affect your fingernails.
Plus, we've thrown in few fan favorite rashes, like the adjective meaning "hasty" and Jim Rash, the actor who plays the Dean on NBC's Community.
Of course, if you're not into self-diagnosis or spinning the Wheel of Rashes, you could always just come to FastMed Urgent Care and get your rash checked out by a caring medical professional.
FastMed Urgent Care: the rational way to treat your rash.
Source: MedlinePlus Medical Encyclopedia