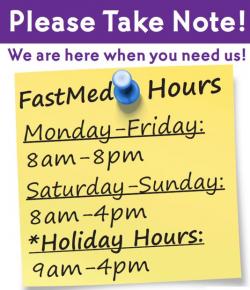 If you are looking for where to get bronchitis treatment, Rocky Mount, NC has a new FastMed Urgent Care location not far from your neighborhood. This FastMed walk-in clinic is on Sunset Avenue, and it is open 365 days a year with extended hours, so you can get the healthcare treatment you need whenever you become ill.
You can come in and see one of our qualified medical professionals within an hour, no appointment necessary. FastMed's walk-in clinics are open from 8:00 am to 8:00 pm on weekdays, from 8:00 am to 4:00 pm on weekends, and even 9:00 am to 4:00 pm on holidays.
FastMed Can Identify and Treat Bronchitis
If you are wondering where to get bronchitis treatment, FastMed Urgent Care is the perfect place to meet your immediate healthcare needs. We provide quick care at a low cost to you, since we accept most major insurance plans.
Bronchitis is a respiratory disease typically caused by a virus. It causes the lining of your bronchial tubes, which carry air to and from your lungs, to become inflamed. People with bronchitis often cough up mucus and may have other symptoms such as fever, runny nose, fatigue, or shortness of breath.
Acute bronchitis is more common, and usually only lasts a few weeks. But chronic bronchitis can last for at least 3 months, and my recurring at least 2 consecutive years. Chronic bronchitis is most common among cigarette smokers.  
If you have acute bronchitis, it may be helpful to drink plenty of fluids, allow yourself time to rest, use non-prescription medicine, such as aspirin or ibuprofen, and breathe in moist air from a hot shower or humidifier.
Seek medical attention immediately if you are experiencing the following symptoms:
Coughing that lasts more than 3 weeks or prevents you from sleeping
Coughing up discolored mucus or blood
Fever
Trouble breathing  
If you are looking for where to get bronchitis treatment, FastMed Urgent Care's healthcare professionals are equipped to provide you with further help based on your symptoms. Our quick, convenient, and low-cost care in Rocky Mount, NC will get you on the road to recovery as soon as possible.