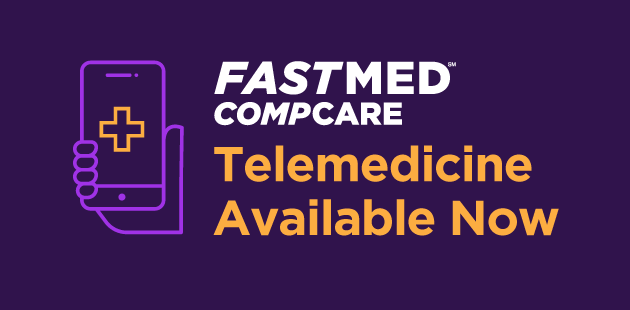 Provides employers the option to utilize contactless care for their employees and reduce downtime from the workplace

Raleigh, N.C. (Sept. 16, 2020) – FastMed Urgent Care announces its new telemedicine program dedicated to treating on-the-job injuries and illnesses, which helps employers and their employees by reducing time away from the workplace. Employees can now be seen virtually for anything from skin irritation to back pain and are cared for by the same providers who regularly treat employees at FastMed's clinics. In May, FastMed launched telemedicine for specific urgent care services and is now expanding its virtual care options for occupational health needs.
"FastMed is proud to partner with employers and their employees to provide high-quality care for work-related injuries, whether the care is delivered in person or virtually," said Web Golinkin, CEO of FastMed. "Virtualizing our occupational health services further solidifies our commitment to minimizing disruptions from work-related injuries for employers and their employees."
Since the COVID-19 pandemic began, employers have gone to great lengths to keep their employees and worksites safe, and telemedicine contributes to this by allowing injured individuals to receive contactless care.
"We offer a broad scope of telemedicine services, from diagnosing acute injuries to follow-up treatment of more complex injuries," said Thomas Brant, M.D., Co-Chief Medical Officer of FastMed. "Offering employers the option to provide our same high-quality, compassionate care that their employees can receive our clinics now via telemedicine can reduce downtime and help prevent the further spread of illness."
As the only independent operator urgent care operator in the markets it serves (North Carolina, Texas and Arizona) to earn The Joint Commission's Gold Seal of Approval® for quality, safety and infection control in ambulatory healthcare, FastMed is committed to providing the safest care possible – whether in person or virtually.
For more information on FastMed's CompCare telemedicine program, use this link to contact a company representative: https://www.fastmed.com/services/employers-occupational-health/
About FastMed
FastMed Urgent Care owns and operates nearly 200 centers in North Carolina, Arizona and Texas that provide a broad range of acute/episodic and preventive healthcare services 365 days a year. FastMed also provides workers' compensation and other occupational health services at all its centers, and family and sports medicine services at select locations. FastMed has successfully treated more than six million patients and is the only independent urgent care operator in North Carolina, Arizona and Texas to be awarded The Joint Commission's Gold Seal of Approval® for quality, safety and infection control in ambulatory healthcare. For more information about locations, services, hours of operation, insurance and prices, visit www.fastmed.com.