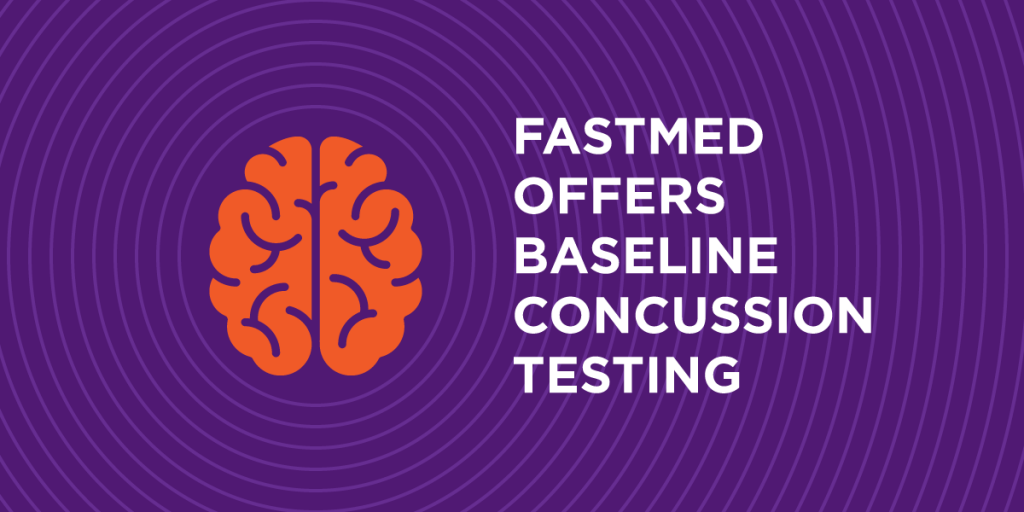 Pre-injury baseline concussion testing to be offered at all Phoenix-area FastMed clinics
PHOENIX, AZ (August 8, 2018) – FastMed Urgent Care, one of the nation's largest urgent care providers in the U.S., announced today that it has launched a new service – baseline concussion testing – across all its Phoenix-area clinics. A baseline concussion test checks current cognitive health conditions, especially critical for athletes at risk of head injury, which then establishes a baseline that can be tested against brain functioning after a head injury.
According to the CDC, about 15 percent of high school students reported having at least one concussion related to sports or physical activity over a one-year period*. Developed by ImPACT Applications, Inc. and designed to serve as a "pre-injury" assessment, the computerized test offered by FastMed measures visual and verbal memory, reaction time, and processing speed. If a suspected head injury subsequently occurs, a medical professional can then compare the baseline test results to the child's post-injury condition. The comparison of the two test results will then help direct concussion management, including a determination of whether it's safe for the child to return to normal play.
"By providing the baseline concussion test, FastMed is giving parents easy, inexpensive access to a critical service that will help to reassure them as their children are playing sports," said Dr. Matt Shores, director of sports medicine at FastMed. "With fall sports season around the corner, this is the best time for parents to take proactive steps to keep children safe in the unfortunate event they do suffer a concussion."
FastMed is now offering baseline concussion testing at all Phoenix-area clinics. As student athletes are preparing for the next school year, baseline concussion tests are offered at FastMed for just $10 in conjunction with any physical.
For more information on concussions or to find a FastMed Urgent Care clinic near you, visit: www.fastmed.com/concussions
*Source: CDC. Morbidity and Mortality Weekly Report https://www.cdc.gov/mmwr/volumes/67/wr/mm6724a3.htm
About FastMed
FastMed Urgent Care owns and operates nearly 200 centers in North Carolina, Arizona and Texas that provide a broad range of acute/episodic and preventive healthcare services 365 days a year. FastMed also provides workers' compensation and other occupational health services at all its centers, and family and sports medicine services at select locations. FastMed has successfully treated more than six million patients and is the only independent urgent care operator in North Carolina, Arizona and Texas to be awarded The Joint Commission's Gold Seal of Approval® for quality, safety and infection control in ambulatory healthcare. For more information about locations, services, hours of operation, insurance and prices, visit www.fastmed.com.