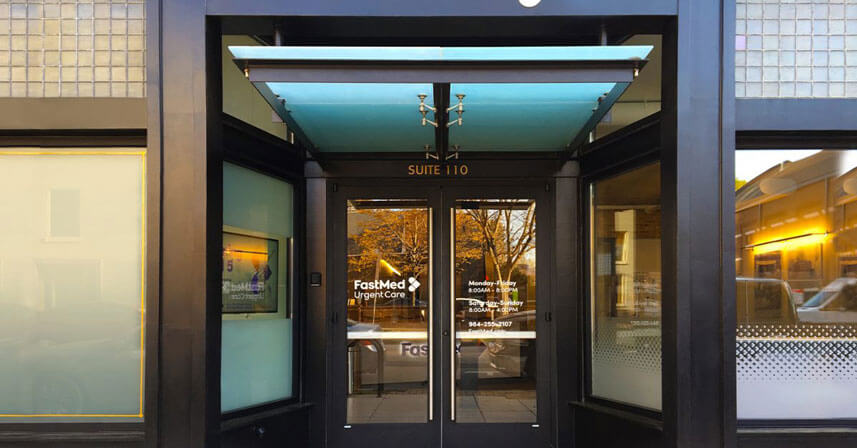 New clinic brings high-quality, convenient and affordable healthcare to downtown residents, workers and visitors while providing occupational health services for employees of area businesses
RALEIGH (April 5, 2021) – FastMed, one of the nation's largest urgent care providers, today opens its flagship clinic in the historic part of downtown Raleigh. This clinic will serve as the rapidly growing downtown community's most convenient walk-in clinic for a variety of urgent and preventive healthcare services. Given its location in the central business district, FastMed's downtown Raleigh clinic also offers area employers easy access to comprehensive occupational health services for their employees, including treatment of workplace injuries and illnesses, drug tests, and DOT and employment physicals.
The new clinic is located at 107 W. Hargett St., in a historic building built in 1924 that was originally the home of the Ideal Cleaning Company and Lumsden Brothers sheet metal workers and later the home of the iconic Father & Son Antiques. FastMed worked with local architecture firm, Clearscapes, to renovate the building to accommodate the new clinic and FastMed's North Carolina headquarters, which opened in September 2020 and brought 200 administrative jobs to downtown Raleigh. The clinic occupies 3,500-square-feet on the street level, and the administrative offices occupy about 16,300-square-feet on the four floors above it.
"Our very first FastMed clinic opened in Clayton, North Carolina, 20 years ago, so we are excited to now open our flagship clinic in the heart of downtown Raleigh. It deepens our roots in North Carolina and our commitment to the community," said Web Golinkin, CEO of FastMed. "This clinic will offer residents, workers and visitors increased access to high-quality, affordable healthcare seven days a week. It's a pivotal moment for our company and the community."
FastMed's clinics provide treatment for acute illnesses and injuries, as well as COVID-19 testing, physicals and women's health. The clinics also offer the convenience of onsite x-rays and lab services for both walk-in and scheduled patients. Additionally, large employers including Wake County Public Schools, Duke Energy, and Pike Electric, along with local and state government agencies, use FastMed's occupational health services for their employees.
"It's been wonderful to partner with FastMed on the opening of their new clinic and headquarters on Hargett Street in the renovated former Father & Son building," said Bill King, Downtown Raleigh Alliance President & CEO. "Having access to convenient and affordable healthcare is vital for a thriving downtown, and this new clinic will provide a great service for residents, workers, employers and tourists alike."
In honor of the flagship clinic opening, FastMed has partnered with a nearby neighbor, A Place at the Table, Raleigh's first pay-what-you-can cafe, to support those in need. For every visit to its downtown Raleigh clinic, FastMed will donate one meal to the cafe, up to the first 1,000 visits.
FastMed was recently reaccredited by The Joint Commission, earning its coveted Gold Seal of Approval® for Ambulatory Care. FastMed is the only independent urgent care operator in North Carolina to hold this accreditation, which signifies that it has met the industry's highest quality and safety standards.
FastMed also recently became the first independent urgent care operator to implement Epic, the most widely used and comprehensive electronic health record (EHR) system. This enables FastMed to seamlessly share medical records with many of the area's largest health systems in order to improve continuity of care for all its patients.
To learn more about FastMed Urgent Care and find a clinic near you, please visit www.FastMed.com. For current job openings at FastMed visit, www.FastMed.com/Careers.
About FastMed
FastMed Urgent Care owns and operates nearly 200 centers in North Carolina, Arizona and Texas that provide a broad range of acute/episodic and preventive healthcare services 365 days a year. FastMed also provides workers' compensation and other occupational health services at all its centers, and family and sports medicine services at select locations. FastMed has successfully treated more than six million patients and is the only independent urgent care operator in North Carolina, Arizona and Texas to be awarded The Joint Commission's Gold Seal of Approval® for quality, safety and infection control in ambulatory healthcare. For more information about locations, services, hours of operation, insurance and prices, visit www.fastmed.com.