Where can I find a walk-in clinic near me? Although many people think that the emergency room is their only option because it is open 24 hours, walk-in clinics offer a more affordable and convenient option for patients who need immediate care for non-life-threatening conditions. Along with offering flexible hours, FastMed accepts most insurance providers, including Medicaid and Medicare.
 Use the FastMed Urgent Care locator to find a walk-in clinic near you!
Urgent Care Medical Facilities Near Me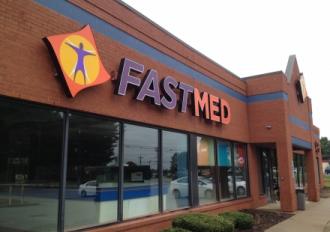 The emergency room is intended for life-threatening situations, which means that patients with serious injuries or illnesses are treated first. Because of this, other patients often have wait times exceeding 2 hours and can incur expensive medical bills afterwards.
Looking for urgent care centers near you? FastMed Urgent Care is designed with your busy (and unpredictable) schedule in mind. Although FastMed is not a 24 hour clinic, we do stay open late, offer services on weekends and holidays, and strive to see each patient in under an hour.
FastMed Urgent Care facilities never require an appointment, so you can simply walk in the emergency center near you.
Services Available at FastMed Urgent Care Walk-In Clinics
FastMed is distinguished by its team of dedicated medical professionals, whose driving goal is to provide personal care right in your neighborhood. Some of the services at our medical facilities include:
Family practice and general medicine
Treatment for acute illnesses and injuries
Flu shots and vaccinations
Physicals
Sports medicine
X-rays, EKGs, and on-site labs
All of FastMed's services are designed around you. Our medical professionals include medical doctors, nurse practitioners, and physician assistants who are dedicated to offering only the best healthcare to their patients and communities. Find a FastMed Urgent Care facility or health care clinic near you for immediate assistance and see for yourself!
About FastMed
FastMed Urgent Care owns and operates nearly 200 centers in North Carolina, Arizona and Texas that provide a broad range of acute/episodic and preventive healthcare services 365 days a year. FastMed also provides workers' compensation and other occupational health services at all its centers, and family and sports medicine services at select locations. FastMed has successfully treated more than six million patients and is the only independent urgent care operator in North Carolina, Arizona and Texas to be awarded The Joint Commission's Gold Seal of Approval® for quality, safety and infection control in ambulatory healthcare. For more information about locations, services, hours of operation, insurance and prices, visit www.fastmed.com.