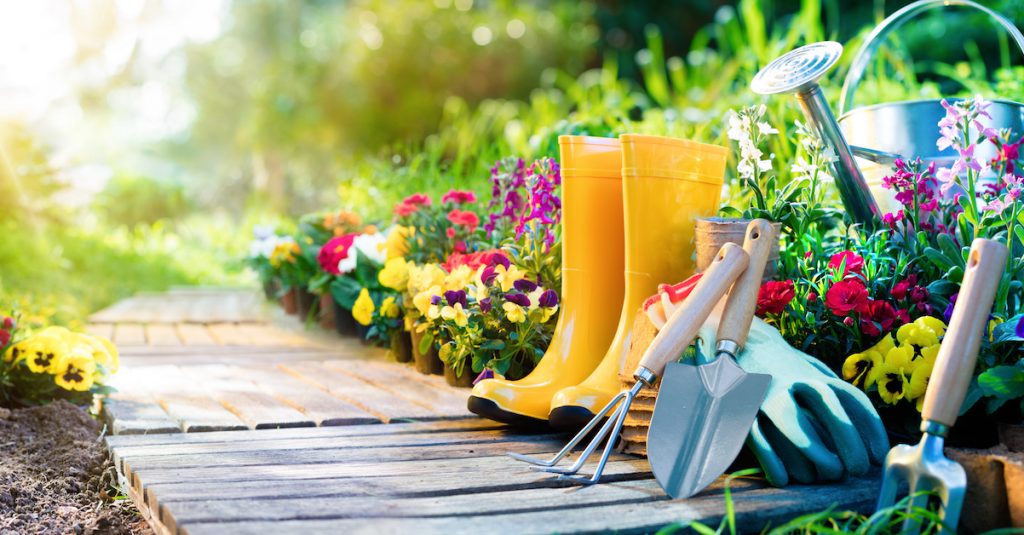 Spring is the time of year when gardening enthusiasts start sharing their favorite gardening tips, and our FastMed staff is no different. Whether you like to landscape your yard with colorful flowers or raise your own vegetables, gardening is a great way to increase your physical activity and relieve stress. Gardening also comes with a wide variety of hazards, ranging from sharp implements and dangerous chemicals to stinging insects and heat-related illnesses. Before you grab your gloves and head outdoors, take time to check out the following facts from FastMed about health and safety in the garden and to review basic garden safety tips.
1. Health and Safety in the Garden Begin with How You Dress
When working in the garden, your clothing is your first line of defense against harmful chemicals, insects, and excessive sun, so shorts, tank tops, and flip-flops are not good choices. The following gardening tips will help you dress appropriately as you tend to your petunias:
Wear long-sleeved shirts and long pants to limit sun exposure and to make it harder for insects to bite.
Tuck your pants into your socks and wear high boots since ticks tend to live near the ground.
Protect your eyes and skin by wearing a wide-brimmed hat and sunglasses.
Apply an insect repellant containing DEET, and sunscreen that is SPF 15 or higher whenever you work outdoors. If you perspire heavily, be sure to reapply both products regularly.
2. The Proper Gardening Safety Equipment Can Protect You from Serious Injuries
The following gardening safety equipment is essential whether you are a master gardener or only tinker in the garden on the weekends:
Wear safety goggles to protect your eyes when using motorized equipment, sprays, or chemicals.
Wear sturdy shoes to protect your feet when using motorized equipment and tools, especially those with blades.
Protect your hands from cuts, irritations, and contaminants by wearing gloves.
Protect your hearing by wearing earplugs when mowing or using motorized equipment.
It is also important to follow garden safety tips regarding the use of equipment and chemicals, including always following the manufacturer's instructions when using equipment or chemicals and storing all tools and chemicals out of the reach of young children.
3. Certain Health Conditions and Medications Can Make You More Susceptible to Heat-Related Illnesses
As the temperatures climb, it is important to monitor the time that you spend outdoors to prevent serious health problems, such as heat stroke. Young children, adults over the age of 65, and individuals who are obese or physically ill are particularly vulnerable to heat-related illnesses. Certain medications, such as those for insomnia, depression, or poor circulation can also impair your ability to handle high temperatures. The following healthy garden tips will help you keep your cool while working in your vegetable patch:
Keep a bottle of water nearby so that you can stay hydrated.
Pace yourself and take frequent breaks.
Take immediate steps to cool down if you notice signs that you are becoming overheated, including a lack of perspiration, headache, muscle cramps, dizziness, nausea, rapid pulse, confusion, or loss of consciousness.
4. A Gardening Injury Can Put You at Risk for a Tetanus Infection
Tetanus, commonly known as lockjaw, is an infection caused by the Clostridium tetani bacteria that can produce involuntary muscle spasms and tightness and make it difficult to breathe or swallow. Tetanus lives in the soil and can easily enter your body if you have a cut, nick, or puncture on your hand caused by a sharp gardening implement or thorny plant. As part of our garden safety tips, we encourage you to get a tetanus vaccine at your local FastMed Urgent Care center if you haven't had one in the past 10 years.
5. Gardening On a Regular Basis Can Help Prevent a Wide Range of Health Conditions
As few as two to three hours a week of physical activity can help prevent obesity and lower your risk for developing high blood pressure, heart disease, and diabetes. For postmenopausal women, physical activity can also help to preserve bone mass and prevent osteoporosis. The following healthy garden tips will help you get the most out of your gardening activities:
Start out slow, especially if you have been inactive for a while. You can increase the duration and intensity of your efforts as your muscles get used to the activity.
Vary your activities when possible to maintain your interest and to work different muscle groups.
To wrap up our healthy garden tips, we recommend that you have a plan in place in case an unexpected injury should occur. Instead of waiting for hours in a crowded emergency room, head to your nearest FastMed Urgent Care location. Our friendly and professional staff is equipped to treat cuts, scrapes, bee stings, and other common gardening injuries.
About FastMed
FastMed Urgent Care owns and operates nearly 200 centers in North Carolina, Arizona and Texas that provide a broad range of acute/episodic and preventive healthcare services 365 days a year. FastMed also provides workers' compensation and other occupational health services at all its centers, and family and sports medicine services at select locations. FastMed has successfully treated more than six million patients and is the only independent urgent care operator in North Carolina, Arizona and Texas to be awarded The Joint Commission's Gold Seal of Approval® for quality, safety and infection control in ambulatory healthcare. For more information about locations, services, hours of operation, insurance and prices, visit www.fastmed.com.