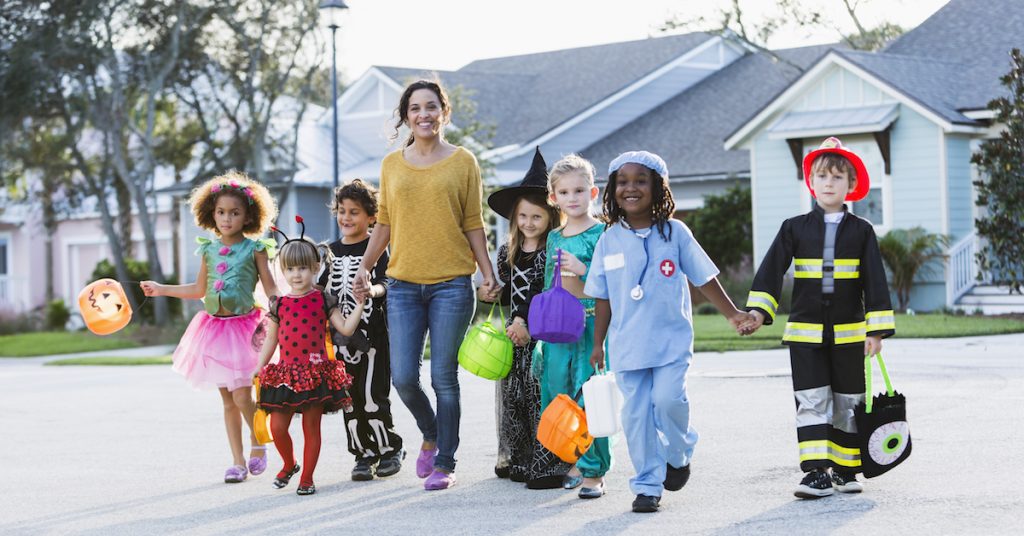 Trick-or-treating, parties, and haunted house excursions all make Halloween an exciting time for families—but sometimes too much fun can lead to injury. Lighting candles in jack-o'-lanterns, wearing costumes improperly, and even eye makeup can all lead to Halloween injuries like cuts, scrapes, wounds, abrasions, and burns.
Fortunately, following a few Halloween safety tips for adults and kids can help your family avoid a trip to the doctor this holiday. This guide outlines six Halloween injuries to watch out for. You'll also learn about the best Halloween driving safety tips and how to create a safe costume.
1. Cuts and Scrapes
Creating the creepiest jack-o'-lantern in the neighborhood can be fun for the whole family, but it can also lead to painful nicks and cuts. In fact, more than 4,400 Halloween-related injuries occurred in 2013 due to pumpkin carving. Thankfully, following these easy Halloween safety tips can make creating a spooky gourd safer. Adults should perform the actual carving of the pumpkin, while children can participate in safer activities like scooping out the pumpkin seeds or tracing the design with a marker.
2. Burns
Flowing costumes, grinning jack-o'-lanterns, and dramatic accessories can all cause burns during Halloween. One of the top Halloween safety tips for kids is to select costumes made from 100% synthetic material like nylon or polyester; natural fibers such as cotton tend to burn more quickly. Masks, beards, and wigs should contain flame-resistant labels. While "flame resistant" doesn't mean that the item won't burn, it does mean that it should extinguish quickly. These are also great Halloween safety tips for adults, who may choose elaborate costumes and accessories.
Another helpful example of Halloween safety tips for kids is to use a battery-powered light instead of an open-flame candle inside your jack-o'-lantern. Not only do battery-powered candles last longer, they're also far less likely to cause burns.
3. Eye Injuries
Colorful contacts and glittering makeup can be the perfect finishing touches on a costume—but they can also cause injury or irritation. When purchasing makeup, here are a few Halloween safety tips to keep in mind: make sure the product is nontoxic, and test it in a small area to ensure no allergic reactions. Both adults and children should remove makeup before going to bed to avoid irritation or foreign objects entering the eye.
4. Dehydration
With families rushing to finish last-minute Halloween shopping and costume preparation, hydration can fall by the wayside. One of the best Halloween safety tips for adults and children alike is to simply drink water throughout the day. Dehydration can occur after a night of walking if the child hasn't hydrated properly.
5. Trips and Falls
Uneven sidewalks, grassy terrain, and long costumes create a recipe for trips and falls, which can lead to acute pain and injuries. This makes it essential to follow a few Halloween safety tips. First, make sure your child can walk easily in his or her costume. Baggy, oversized costumes should be hemmed or taken in to prevent them from dragging across the ground. Second, make sure that eyeholes and masks provide enough visibility and ventilation.
6. Traffic Accidents
Being aware of important Halloween driving safety tips is crucial. Drivers often have a hard time seeing dark costumes, and trick-or-treaters may cross intersections without warning. Pedestrians can stay safe by selecting brightly colored fabric for costumes and adding reflective tape to costumes as trim. You can also carry a flashlight or glow stick while trick-or-treating.
Motorists should practice the following Halloween driving safety tips:
• If you'll be driving through busy neighborhoods on Halloween, take special care to turn corners slowly and don't pass stopped vehicles.
• Watch for children suddenly darting into the street and yield to those who are trying to cross.
• Most importantly, don't use your smartphone while driving—distracted driving is a primary cause of traffic accidents.
As a rule, adults should always accompany young children as they make their neighborhood rounds. If you have older children who are trick-or-treating alone, plan their route in advance and determine what time they're expected to be home. Contact 911 or local authorities immediately if your child has been involved in a traffic accident.
By following just a few Halloween safety tips for kids and adults, you and your family can focus on the holiday's tricks and treats. Should any Halloween injuries arise, visit your local FastMed clinic for treatment. Our urgent care professionals have the skills necessary to treat your symptoms quickly and help you get back to enjoying the holiday.
About FastMed
FastMed Urgent Care owns and operates nearly 200 centers in North Carolina, Arizona and Texas that provide a broad range of acute/episodic and preventive healthcare services 365 days a year. FastMed also provides workers' compensation and other occupational health services at all its centers, and family and sports medicine services at select locations. FastMed has successfully treated more than six million patients and is the only independent urgent care operator in North Carolina, Arizona and Texas to be awarded The Joint Commission's Gold Seal of Approval® for quality, safety and infection control in ambulatory healthcare. For more information about locations, services, hours of operation, insurance and prices, visit www.fastmed.com.